Super Smash Bros. Ultimate leaked roster image + 7 fighters
Super Smash Bros. Ultimate leak showcases the potential completed roster for the game. Adds 7 newcomers to current line-up.

Published Thu, Oct 25 2018 1:00 AM CDT
|
Updated Tue, Nov 3 2020 11:50 AM CST
We are back yet again with another potential leak for Super Smash Bros. UItimate, this time round we have a new image to decipher, let's just jump straight into it.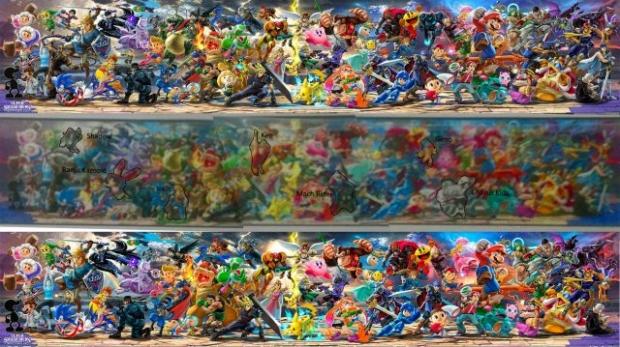 The above image with the clear outlines of the alleged newcomers to make it Super Smash Bros. UItimate has been sourced from no other than 4Chan. I know, when Smash fans hear '4Chan' and 'leak' a bad taste in your mouth instantly occurs, but since this time round its an image and not just text it will be much easier to tell if this ones fake or not (hopefully).
The two outside images are the officially announced roster so far, they have been placed on the outside of the leaked image to give a comparison to where each of the characters are standing/resolution. Now looking towards the leaked image, it has been supposedly taken on Snapchat and we can see outlines of Shadow the Hedgehog, Banjo Kazooie, Ken, Mach Rider, Chorus Kid, Issac and Geno. Obviously this leak is very blurry, which certainly raises my suspicions to whether it is real or not, blurry images are much easier to pass off as real as injecting renders into an already blurred image is much more believable. It also makes it extremely difficult for detail finding, due to most, if not all the pixels on the edges of the renders being blurred out.
We can see from the comparison images that many of the officially announced characters have been moved around to make way for the supposed 7 newcomers. In my opinion, the shifting of the characters has been done very well if this is fake, the artist would of spent quite awhile cutting each character out and moving them over just ever so slightly. If the image is real, all 7 of the newcomers have already been named as characters that are wanted by the Smash community, but it really is just hard to say.
I'm torn 50/50 on this one, the convenience of blurred image with what seems to be pretty stock standard renders of the characters included within image makes me think its just another fake leak. But as we move closer to the release date of Smash Ultimate, this is when leaks do actually happen, all of the characters have been decided, their code has been implemented into the game and now Nintendo are just doing the final touches before the launch. Especially after the Ken leak that is basically confirmed, I'm more inclined to lean on the optimistic side of things. You decide for yourself, Nintendo should have another Smash Direct in the coming weeks and that is no doubt where we will find out more about the games full roster.
Super Smash Bros. Ultimate will launch on December 7th, exclusively for the Nintendo Switch.
Related Tags