Nintendo is currently developing a new Switch system for release in 2019, The Wall Street Journal reports, and it may be a successor to the 3DS handheld.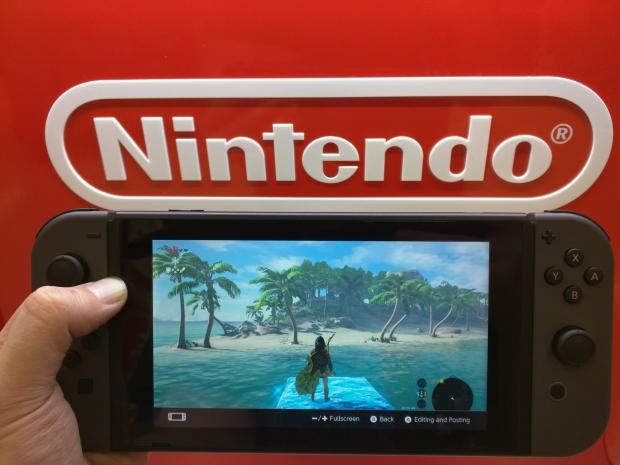 Playing games on-the-go is a major selling point of Nintendo's Switch handheld-console hybrid. The console, whose marketing promised users can "play with anyone, anywhere" by combining functionalities of a 3DS and Wii U, has sold 19.76 million units worldwide as of June 30 and shows no signs of stopping. As a result Nintendo has consolidated its handheld and dedicated gaming branches into one to plan for the unified system's future, which may include a revised handheld-only option to phase out its 3DS line.
Nintendo plans to launch a refreshed Switch system in 2019, likely during the company's Fiscal Year 2020 ending March 31, 2020. Key sources have told WSJ's Takashi Mochizuki that the system may have upgrades over the current model's 720p LCD screen. But this might not be the only change. Industry analysts predict that Nintendo will release a handheld-only Switch Mini option in 2019 aimed specifically at younger demographics.
We think there are three possibilities here:
A handheld-only Switch Mini

A beefier Switch with boosted power that costs more

An add-on box that boosts CPU power by tapping NVIDIA's GeForce Now servers
"Although the Nintendo Switch can be used as a handheld device, we think smaller children could struggle to use it comfortably in that format due to its size and weight," Citigroup analysts like Minami Munakata, Kota Ezawa and Alicia Yap predicted in a 2017 report.
"Accordingly, we think Nintendo will launch a lighter, dedicated handheld version of the Switch, possibly to be called the Switch Mini."
It's also possible the new Switch refresh could get an internal hardware boost, including an improved NVIDIA Tegra chip as well as RAM upgrades. This new enthusiast-grade Switch would likely cost more than the system's current $299 price tag.
Another possibility is that Nintendo will release a new add-on processing box alongside a Switch Mini. Long ago the company patented an SCD, or a Supplemental Computing Device, which connects to the Switch and boosts CPU power. The idea is to improve connection latency as well as performance for dedicated home console gaming, but I predicted the SCD could be a gateway to using NVIDIA's remote servers to significantly boost processing power via the cloud.
Remember that NVIDIA's Tegra chips--the same chips that are found in the Switch--are designed to play nicely with its game-streaming GeForce Now service.
Nintendo hasn't confirmed the existence of a new Switch just yet, and they likely won't until a few months before launch. There are many reasons to believe the Kyoto-based games-maker is working on a new Switch version, however.
Back in April 2018, Nintendo exec Shinya Takahashi confirmed Nintendo is experimenting with new games hardware.
"Nintendo constantly works on hardware, so we have been doing research and development and you may see the new system sometime in the future," Nintendo's Shinya Takahashi said to the BBC earlier this year.
Nintendo's R&D spending for the last fiscal year ending March 31, 2018 shows a large 18% spike, which could be evidence of new immediate hardware development. It's worth noting this is almost a six-year high for Nintendo's research and development spending.