Until now, keyboard and mouse support on the Xbox One... well, sucks. The vastly superior controls used for PC gamers don't gel well on consoles for a variety of reasons, but that doesn't mean Microsoft isn't at least working on it.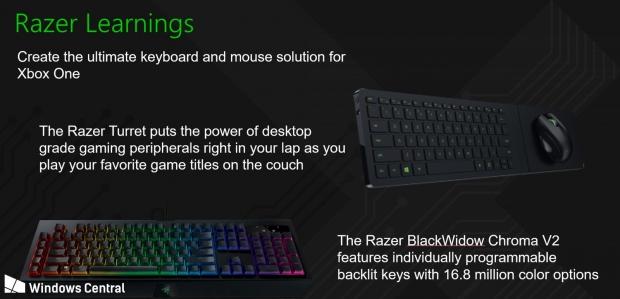 According to Windows Central, who recently received some information that Microsoft was "at least planning to bring mouse support to the April update of the Xbox dev kit. Redmond showed off the sofa-friendly Razer Turret keyboard and mouse peripheral in partnership with Razer, who joined Microsoft for the presentation".
The presentation in question saw the companies enabling Razer Chroma RGB lighting support on Xbox games, with Microsoft using the PC versions of games like Overwatch, DOTA 2, and others to show Razer's great lighting tech in games. It's a much more immersive experience, especially when you're in an eSports game like Overwatch or DOTA 2 where your characters are cooling down from a used ability, and the keyboard and mouse react accordingly. It's awesome.
Microsoft also provided some guidance that the effects of mouse and keyboard use would have against others that are using the Xbox controller in competitive multiplayer games. Windows Central reports that Microsoft said "it's entirely up to developers on how they want to utilize mouse and keyboard support, emphasizing that the presence of mouse and keyboard can be detected, meaning a developer could potentially lock players to specific playlists based on their inputs to preserve balance. Microsoft encourages developers to monitor how mouse and keyboard players compete against gamepad players and make adjustments where necessary, while "highly suggesting" that use of mouse and keyboard should be used in separate matchmaking rules".