Samsung has just announced its latest 8TB NVMe SSD, something the company has pushed into the next-generation NF1 form factor that will be sold in datacenters, and enterprise servers.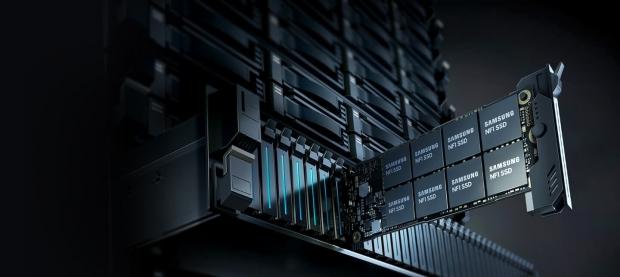 The new Samsung 8TB NF1 SSDs are both NVMe 1.3 and PCIe 4.0 compliant making them, if I want to say them out loud, future-proof. There, I did it. The new drives are using the latest in flash technology that Samsung makes itself, with a single NF1 stick sporting 16 V-NAND dies to drive the capacity up to 8TB.
Get this: the new NF1 form factor packs twice the density of an M.2 drive, blowing away current-gen NVMe M.2 drives in capacity. This is all thanks to the next-gen NG1, or NGSFF (Next-Generation Small Form Factor). Samsung's new high-performance SSD controller sees speeds reaching up to 3100MB/sec reads, and 2000MB/sec writes with up to 500,000 IOPs and 50,000 IOPs read/write. Hell, there's even 12GB of LPDDR4 as cache on the new NG1 drive.