GIGABYTE teases its 28-core Intel superboard
GIGABYTE teases us with a motherboard we have dubbed the Superboard.
Published Thu, Jun 14 2018 7:00 PM CDT
|
Updated Tue, Nov 3 2020 11:51 AM CST
GIGABYTE teased all with their huge motherboard capable of overclocking Intel's 28-core monster CPU to 5GHz, let's see what was hiding under the heat sinks and find out more about the CPU and motherboard.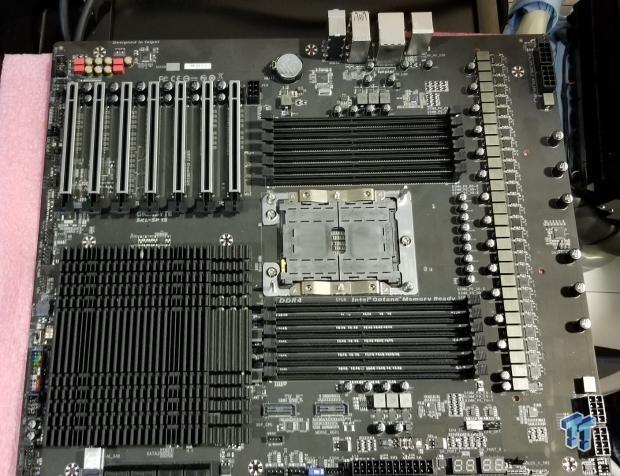 There has been a lot of chatter about Intel's debut of their 5GHz 28-core beast, and while that CPU is probably a modified Xeon Platinum 8180, Intel nor the vendors would give us any information on the CPU or even motherboard. However, we can learn a lot from the motherboard used to demo the chip to the world. For starters, let's get this out of the way; yes, that chip was without a doubt overclocked. The VRM on the motherboard is a monster, and designed to support much more than Intel's "300W" TDP number (the Platinum 8180 is rated for 205W TDP).
For reference, Intel's 18-core 7980XE can easily pull 500W when overclocked to 4.5GHz. So add the increased leakage from taking more than 50% more cores all 500MHz higher, and add to that the decrease in VRM efficiency due to increased phase count, and we think the VRM could be pulling 1.2-1.8 KW. We heard rumors of the 7980XE pulling up to 1000W under LN2, so we don't think our numbers are too far off. We also heard that Intel was hitting the limits of physics, and we aren't just talking about upgrading their circuit breakers.
We believe that both the GIGABYTE and ASUS motherboards that demoed the CPU used a PCB meant for dual socket motherboards just so the copper plane was big enough to handle the increased current, we also believe the motherboards are using increased copper in the PCB. We also see double the ATX 8-pin power connectors, for a total of four. These power connectors are isolated for CPU power only, and by standards they should each supply up to 300W. However, we have seen more than 300W go into them with ease.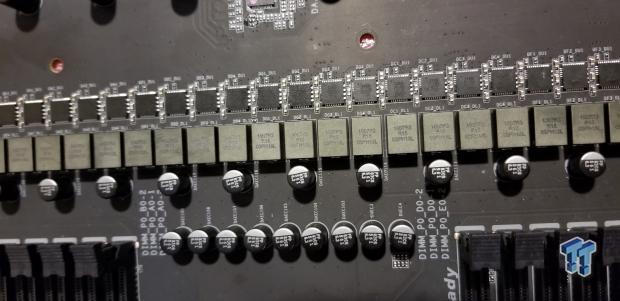 Yummy. A 28-phase VRM controlled by an IR35201 in seven phase mode utilizes seven IR3599 quadrouplers to produce 28-phases. While this isn't the biggest VRM GIGABYTE has put on a motherboard, we assume it has been highly balanced to produce the best combination of efficiency and performance. GIGABYTE is using IR3556, which are 50A power stages with inductors that are rated roughly 76A maximum saturation current, and we think this has to do with GIGABYTE's resource allocation and sourcing as they use the same combination on their other high-end motherboards.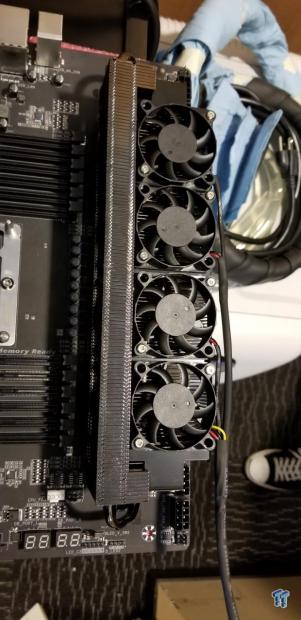 The VRM is cooled by this monstrosity of a VRM cooler. It carries four fans, and they are slightly larger than your typical VRM fan. It also uses heat pipes. If we take our estimate of 1200-1800W, use a VIN of 2.1v (to remove performance bottleneck), then it would need to produce 570-860A of current (rough estimate). So if we divide 570-860A over 28 phases, each power stage would need to output 20-31A, which might not seem too crazy, but it is. Now, at around 20A-31A IR's 50A part would output 2-4W with efficiency around 93-92%. So we can recombine our numbers to 56-112W of VRM heat that needs to be removed. That's a lot, and why this motherboard seems to have a VRM cooler designed to cool an 8700K.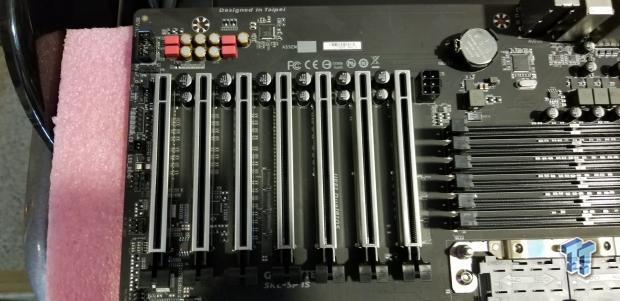 The motherboard also seems to offer six-channel memory, with channels A,B,C,D,E, and F marked on the motherboard with two DIMMs per channel. We also figure the PCI-E layout to be x16/x8/x8/x4/x16/x8/x8. We assume the x4 slot is routed to the PCH, and if we get the same 48 lanes of the Xeon Platinum 8180, we are still x16 lanes short.
There could be some quick switches on the back to account for this, or the PCH is providing these lanes, as we don't spot many controllers that would require PCI-E. We find a single Intel Gbit NIC chip, one U.2 port, and eight SATA6Gb/s ports. That would leave a lot of PCH bandwidth free. We did notice three PCI-E quick switches at the top of the PCI-E slots and four near the x4 slot, so obviously some bandwidth is being moved around.
We are also assuming the motherboard is close to what a retail model might be, as it carries high-end audio with an ALC1220 and special audio capacitors and it features GIGABYTE's RGBW headers and digital RGB headers that use the more common 3-pin layout. We will keep you updated on the status of this platform, but our guess is that the CPU uses Intel's XCC die. Now, this system is meant to be crazy, to push the boundaries of what is possible, we hope to see what becomes of it.
Related Tags