As an online-based experience, Anthem should indeed be monetized in some form...but EA might hold off on those specific live services at launch.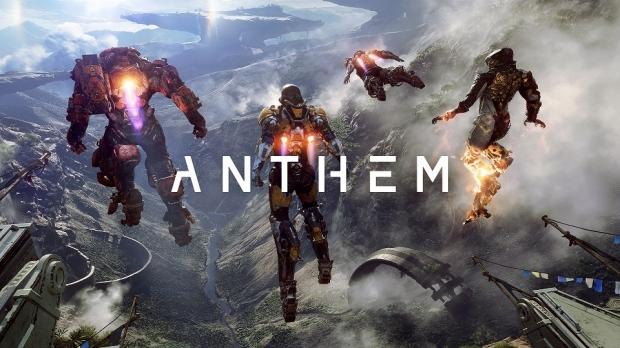 The Battlefront II controversy taught EA a hard-learned lesson. As the second games titan behind Activision, you better believe EA has taken lots of notes about what not to do regarding microtransactions and the like. Fast-forwarding to this fiscal year, FY2019, and we see two big games that are prime for engagement monetization: Battlefield V and Anthem, BioWare's big new IP. We know that Anthem is an online-driven game that will most certainly be monetized with live services, but the timing is just as important as the methodology, and we could see EA taking careful steps with their massive new investment.
In many ways Anthem is EA's dream game in terms of long-term potential monetization: it's a shared-world, genre-melding, action-RPG-shooter with narrative-driven components and online play. Essentially it has all of the critical pieces needed to turn the the billion-dollar engagement wheelhouse that dominates the games industry, and EA loves engagement (after all it made $2.19 billion from live services last fiscal year). But EA also knows it can't mess this one up. Anthem has to be handled just right lest it receive the ire of the gaming world...and that's not something you want after investing untold millions into a big new IP.
Apart from all of these obvious tidbits, EA's top brass might've dropped some clues on Anthem's paused monetization pattern.
During the company's fiscal Q4'18 earnings call EA CFO Blake Jorgensen said something interesting about Anthem. Not only did he reveal Anthem will launch at the tail end of EA's fiscal Q4'19 timeline in March, but might've strongly hinted the game's live services may not kick on until after launch.
EA is being conservative with their approach to Anthem, at least in projected sales units, but I think this plan will carry over to all aspects of the game. Like I said above, Anthem has huge potential to be EA's unique answer to Destiny. But it has to be handled just right.
"The real issue with Anthem is the game will be shipped in the last quarter of the year, and in the last month of that quarter, meaning we'll probably have limited re-stocking of the title even if it's extremely successful," Jorgensen said in the call.
"Since it is new IP we're being conservative in how we're thinking about it, we're very excited about the game, it's extremely unique, and I think players are going to really enjoy playing it."
But here's the real interesting tidbit regarding Anthem's live services:
"But we're careful not to put too large of a forecast in there, and clearly it will impact this year as well as next year as we not only continue to sell more into the next year but as we start rolling out the live services associated with that game," the EA CFO said.
(Cont. below)
Now it's entirely possible Anthem will be monetized from the start. Both EA execs and BioWare themselves have confirmed Anthem will have multiple beta tests to help shape and mold the player experience, and that gamer feedback will be both considered and acted upon to evolve the game itself.
It's possible Jorgensen's words just mean live services will launch when Anthem releases in March 2019 and will continue carrying over to the next Fiscal Year 2020 timeline. Meaning Anthem could have optional in-game purchases right out of the gate. After all, EA has said live services matter more than game sales...and based on its earnings the company is actually quite right.
But what if EA wants to collect metrics and comb through stats before it flicks on the live services switch?
And when I say live services, I don't mean updates and key content rollouts--just the monetization aspect, ie cosmetic purchases, lootboxes, etc. On that tact, I don't think Anthem will have lootboxes even though it's absolutely prime territory to use them (the Jarra's Wrath box opening during E3 2017's trailer really brought this point home).
Gleaning player-generated data is absolutely essential to properly monetizing any game. Since Anthem is so new EA and BioWare may just take a few months to collect, analyze and interpret the data so it can carefully and properly monetize the experience with specific content. It's also just as important to take feedback into consideration, ie what players think and feel about the game itself--what they want, what they don't like, etc.
(Cont. below)

On that front, I think Wedbush Securities analyst Michael Pachter was right when he said Anthem may be monetized with cosmetics.
If EA goes down this path I don't think that will be the only monetization, however: EA will likely charge for macro-monetization content like DLCs/expansions whilst using cosmetic purchases to drive live updates and the like.
Remember that mainline games like Battlefield use both micro- and macro-transactions to buffer yearly revenues.
All in all I think EA and BioWare will be cautious when it comes to Anthem. The game is simply just too big to mess up and represents years of work and millions of dollars...but more importantly it represents a unique path to a service-driven online game that could last years and years.
That's not something EA wants to mess up.