While BioWare has already confirmed Anthem will have beta tests, EA underlines these promises and strongly hints we'll see some beta info revealed at E3 2018.
Anthem is the biggest game BioWare has ever made, and represents a hugely ambitious new goalpost for not only the developer, but EA--a publisher who's always wanted to make a big online-connected game akin to Destiny. EA has spent a bit hyping the game up, using words such as "genre-melding" and "massively, massively ambitious," and the company's latest Q4'18 earnings report does the same while revealing some interesting new tidbits.
In the earnings call EA CEO Andrew Wilson referred to Anthem as a "brand new franchise," pretty much saying what I've thought for a while: the publisher is investing in Anthem for years and years to come. Anthem will be a service game at its core with social-based elements, but unlike games like, say, Destiny, the in-game world will apparently be less static and will "constantly evolve around players."
Here's what EA CEO Andrew Wilson had to say about Anthem in the call:
"Later in the fiscal year, we will launch our stunning and ambitious new IP, Anthem. Every dimension of this game will offer something entirely new for a wide audience of players - from a

new universe with unique stories that BioWare is creating, to the cooperative gameplay, to the epic and beautiful environment that constantly evolves around players.

"Anthem is a fundamentally social experience, and we will open new ways for fans to join the community and play early, enabling us to shape and refine the game with their input and feedback.

"We're deeply excited to launch this brand new franchise, and equally excited to work with our players to make Anthem a game they can't wait to play and share with their friends for years to come.
Aside from the hype-speak what's most interesting to me is how EA asserts Anthem will use player-driven feedback to mold, shape, and ultimately grow the game over time. This in tandem with the affirmations suggests Anthem should be akin to Bungie's deal with Activision over Destiny, and that BioWare will be working on the game (and the franchise) for quite some time after release.
Considering EA learned a tough lesson over Battlefront II's lootboxes and progression system, it's only natural the publisher wants to get things right from the start. Long ago I predicted that Anthem would have microtransactions of some sort to help fund future development updates and offer recurring value to the games-maker, and the in-game purchase model crystallized following new E3 2017 footage: Anthem seems like prime territory for lootboxes. The opening of the Jarra's Wrath box really underlined this point.
But at the same time I expect to see Anthem change and change over time especially during the critical early launch phase that can make or break an online service game. The game EA shows off next month at EA Play may not exhibit the same hints and microtransaction clues shown last year.
I also expect to see EA announce beta details at E3 2018, something akin to "pre-order Anthem now to get early access to the first beta." There should also be multiple beta tests before the game launches in EA's upcoming Q4 period. So the initial alpha/beta game we play during, say, before Battlefield V's launch, should be entirely different than the finished product that launches in March 2019.
EA is a "learning company" after all.
Anthem will launch sometime in March 2019 at the end of EA's Fiscal Year 2019 timeline, which will buffer that year's earnings while also kicking off FY2020 with likely strong sales.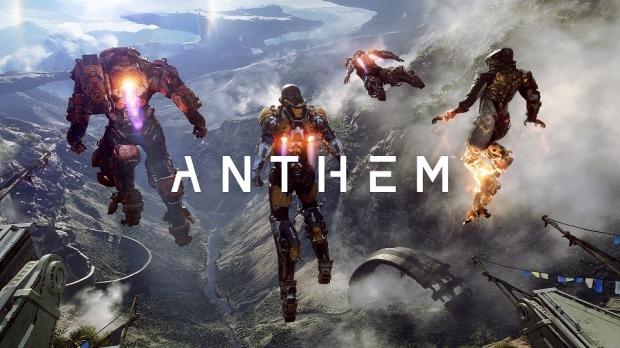 What is Anthem? A refresher
"New IP is one the purest forms of innovation in our industry. A brand new idea combining the latest tech and a vision for something extraordinary. This game will push every boundary for you. It is fast, dangerous, beautiful and unexpected," EA's Patrick Soderlund said at EA Play in June.

"Looking forward, we will continue our aggressive pace of innovation through experiences that capitalize on our technology, network and creativity. We are very pleased with the progress of our new action IP from BioWare - the design is stunning, gameplay mechanics are excellent, and the action will be exhilarating," EA said in its Fiscal Year 2017 earnings call.

"This game is built around a live service, and through our creative process we have decided to add more to the disruptive new social designs for our players. To accommodate that, we are moving the launch date for this project into FY19."