BioWare dev hints Anthem has microtransactions
How will EA and BioWare monetize Anthem? Lootboxes with gear, cosmetics, crafting items...or something different?

Published Tue, Nov 7 2017 1:23 PM CST
|
Updated Tue, Nov 3 2020 11:53 AM CST
As an online game with co-op multiplayer and "genre melding" elements, BioWare's new game Anthem is perfectly aligned with Electronic Arts' shift towards live services. And this means microtransactions. But how will Anthem be monetized? BioWare is having lots of discussions on the topic, which strongly hints the game will indeed be monetized (not surprising: it's an online multiplayer game made by EA after all).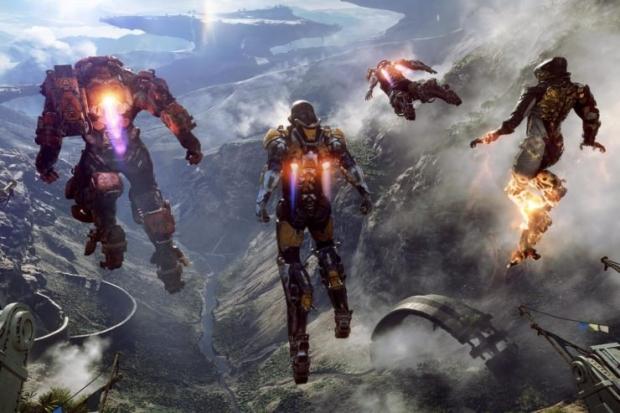 Months before BioWare officially announced Anthem I predicted the game would be monetized in some form via microtransactions. EA's fiscal year results showed a pattern of action-based games and live services--a pattern that's very evident now--and Anthem, which should be EA's Destiny-killer, is a prime opportunity for monetizing mass engagement. I warned gamers to expect microtransactions and probably loot boxes before Anthem was shown off at E3 2017, and after the reveal that premonition was all the more stronger thanks to the RNG loot mechanics displayed in the trailer (the Jarra's Wrath box opening was a big hint).
Given the current "toxicity" of lootboxes in the gaming sphere, if EA doesn't handle monetization just right it could spell doom for Anthem. Or at the very least a huge swath of bad press. For perspective, Anthem is the biggest thing BioWare has ever done as a company, and should be even bigger than the Star Wars: The Old Republic MMORPG. It's scale is titanic, dynamic, and based on the potent live service platform. EA has put lots of faith, effort, and money into the project over a number of years. These kinds of massive investments into online service games typically embrace microtransactions as a means of mitigating risk. But how exactly should EA and BioWare monetize Anthem? How can they ensure the game continues generating revenue every month to fuel steady content updates and keep the servers online?
According to BioWare dev Brenon Holmes, the dev team is currently mulling over how to monetize their creation--pretty much confirming our predictions (which again weren't too hard to come to). "I hear you. We're talking a fair bit about this at the moment. I can't really talk about it too much, but it's an ongoing discussion," Holmes said in a Reddit post discussing loot box "toxicity" and how it could affect Anthem.
"And if it helps at all, we're gamers too. :) A bunch of folks on the team have similar positions on monetization... so that perspective is definitely represented."
"Looking forward, we will continue our aggressive pace of innovation through experiences that capitalize on our technology, network and creativity. We are very pleased with the progress of our new action IP from BioWare - the design is stunning, gameplay mechanics are excellent, and the action will be exhilarating," EA said in its Fiscal Year 2017 earnings call.

"This game is built around a live service, and through our creative process we have decided to add more to the disruptive new social designs for our players. To accommodate that, we are moving the launch date for this project into FY19."[/QUOTe]

What is Anthem? A refresher

"New IP is one the purest forms of innovation in our industry. A brand new idea combining the latest tech and a vision for something extraordinary. This game will push every boundary for you. It is fast, dangerous, beautiful and unexpected," EA's Patrick Soderlund said at EA Play in June.

Either way, I do not think Anthem will have a traditional subscription model. It should be buy to play with free updates and optional microtransactions that save time.

EA is a juggernaut in the games industry, and when it comes to finding new ways to make money, they're masterminds. The company could be experimenting with a new and unique monetization method that incorporates live streaming (ie giving streamers a chance to earn in-game items from sharing videos/impressions, etc) and even social media (get a loobox for using the #Anthem Twitter tag, etc). Or maybe they're doing something no one's ever done before?

EA could also do something different...something unexpected

Gamers could expect maybe 2-3 big expansions every year. Expansions could cost $19.99 a piece depending on the content, and would be entirely optional. Unlike the original Destiny, gamers who didn't buy the expansion wouldn't be locked out of rotating dailies and weeklies.

A season pass will offer big story-based content updates that are more refined and structured than Destiny's model.

Macro-monetization:

These microtransactions will fuel a steady stream of free content updates. EA should also tie in Origin and offer exclusive rewards for users, and maybe even a spin-off mobile game with social elements similar to the Destiny app--but also allows gamers to earn X amount of daily credits/crafting materials, etc.

Last but not least, gamers could buy items such as weapons, add-ons, and even new Javelin mechs straight from the store in an a la carte fashion. This way you'd know what you're getting. The store selection could rotate after a short period of time, perhaps once a day or once a week.

EA could also layer the microtransaction model via crafting. This would be similar to Battlefront II's current model.

Premium currency used to buy lootboxes with random rewards, including weapons, Javelin skins and modules, and crafting items. Gamers can buy batches of premium currency in tiered payments, ie $5 for 5,000 tokens, $10 for 10,000 tokens, etc etc. EA will dole out a smattering of premium currency every month or so as rewards for continuing playing or completing objectives.

All microtransaction structures could evolve and change over time...but macro-monetization would be set in stone as part of the game's roadmap. EA would be flexible and adjust things gamers don't like in a bid to satisfy consumers and keep bad press on the down low.

Prediction: How EA and BioWare will monetize Anthem

Micro-monetization:

Read Also: Anthem is sci-fantasy, not sci-fi like Mass Effect

It's great to hear Holmes, and a bunch of BioWare devs, feel the same way that gamers do. But ultimately I don't think it matters much. BioWare is a wholly-owned EA company, and the publisher calls the shots.

"Personally I prefer games where the ratio is somewhat reasonable... ie: I can reasonably acquire currencies to purchase things through regular play. Personally, I also don't like it when some things are only available for premium purchase."

"I think it has more to do with the philosophy around it, the first thing that most people do is look at the value of the "sweat currency" as compared to the premium currency," he said.

Holmes goes on to highlight how he personally feels about microtransactions--how games should have a balance between their "sweat currency" and paid premium currency.
Related Tags