Anthem's monetization may be cosmetic, analyst predicts
Anthem is almost certainly to have service game-based microtransactions, but will they go fully cosmetic or have gear-based lootboxes?
Published
3 minutes & 24 seconds read time
Back in May of this year I predicted BioWare's new IP, now known as the mech-shooter Anthem, would be monetized in some form with microtransactions. Now key analysts are aligning with my predictions in an effort to gauge how the monetization pattern will go: will it be traditional gear-based lootboxes, or cosmetic-only--or a mixture of both?
EA is no stranger to service games. A good portion of its modern release slate have online-based components of some kind, many of which are near-perfectly monetized with a successful engagement model that not only fuels the billion dollar games industry, but churns the publisher's big money-making wheel. So it's no surprise that BioWare's big new IP, which should big the biggest project it's ever done (an online-based shooter with genre-melding and action-based mechanics that seems to be primarily multiplayer-focus), will likely tap this model: after all EA has probably poured tens of millions into the project. Also remember that Anthem should be a big Destiny competitor, and that means long-term engagement (which further means long-term monetization).
So what are the best ways to monetize for the long-term? The most profitable, of course, are randomized lootboxes. Based on the E3 2017 trailer, Anthem is absolutely prime territory for randomized lootboxes filled with upgraded gear, meaning cosmetics probably wouldn't be the best way to monetize in terms of maximum returns and longer engagement. The trailer showed a bit of RNG when a character opened a chest and got the rare Jarra's Wrath, and as soon as I saw that, I knew MTX would be in for sure. Also remember BioWare has past experience monetizing outright lootbox gear drops in games like Mass Effect 3, Dragon Age: Inquisition, and Mass Effect: Andromeda. But it's not 100% guaranteed to have gear-based lootboxes, and EA could go with a mixed cosmetic-and-gear approach in an effort to curb its Battlefront II controversy...but Anthem also launches a long ways away (in Fiscal 2019, which is from April 1, 2018 to March 31, 2019).
I've outlined a few ways Anthem could be properly monetized in previous articles, but Wedbush Securities analyst Michael Pachter has a few ideas.
"So the question for Anthem is, will EA screw it up like with Star Wars?" Pachter said in a recent interview with Gamingbolt.
"Or will they follow the Overwatch and Destiny roadmap, where the actual game is fun to play and the payments are ancillary? Because where they got into trouble with Star Wars was in making it pay to win. Had they limited themselves to purely cosmetic items, I don't think anyone would have said anything.
"So Anthem has the potential to be Destiny like in terms of game experience, and Overwatch like in terms of mcirotansactions offered, where it's all cosmetic and no one bats an eye."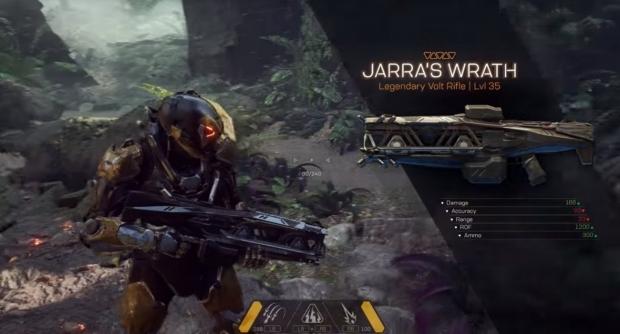 Pachter also says that EA's handling of Battlefront II has sowed lots of seeds of distrust with core gamers and that the publisher needs to earn back their trust.
"I think right now EA is on probation with gamers. I think everyone is watching everything they do. I don't think they can afford to put an onerous mcrotransaction scheme in any game going forward, they need to re-earn gamers' trust again."
These things are somewhat true, of course, but the connections to Destiny are a bad move to make. Destiny 2's monetization path has been widely panned since launch, and has since reached a roaring crescendo as gamers call for the in-game microtransaction storefront, The Eververse Trading Company, to be removed.
The ultimate point here is this: expect Anthem to have microtransactions, but also expect Electronic Arts to simultaneously learn from their mistakes while keeping the most lucrative monetization path in place. It's highly unlikely they'll go off on a tangent and try a new business model with such a valuable, high-cost property as Anthem--launching a new online-based, open-world IP is risky enough, let alone tacking on an experimental monetization path as well.
Anthem has been in the works for years and years, and was only announced at E3 2014. This is BioWare's biggest game and should be a defining moment for both EA and the studio itself, so expect both of them to go all out this time around. Whether that means gameplay or microtransactions (or both) we can't say just yet.
Related Tags