CES 2018 - For the last few years I've been exclusively using Corsair gaming keyboards and mice for every single gaming and workstation PC that I have here in my office, and for the entire time I've wished that they were wireless, something Corsair unveiled at CES 2018.
Corsair has announced its new K63 Wireless keyboard, a new 10-keyless wireless keyboard, a first for the company. Corsair packs in 100% Cherry MX Red keys with a blue blacklight, something that's customizable with Corsair's CUE software package.
The keyboard can be used in either 1ms 2.4GHz option, or you can switch it out for the low-latency Bluetooth wireless mode that increases battery life. If you want to not worry about battery life, Corsair has included the ability of plugging in the USB connector while also offering wireless encryption.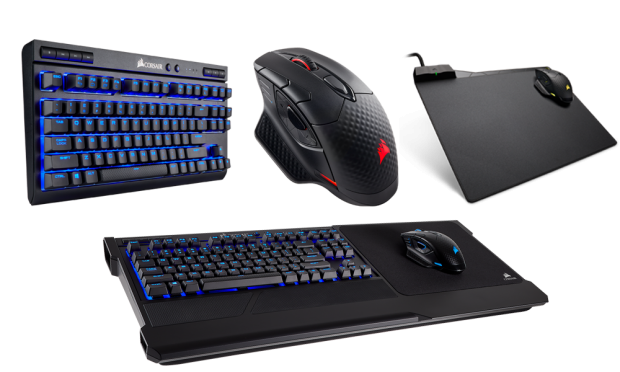 Corsair will be selling the K63 Wireless keyboard for $109 and it's available today, while they're also selling their new wireless Lapboard for $59, or both in a combo for $159.
Corsair also announced their new Dark Core RGB wireless gaming mouse, something that packs a 16000 DPI optical sensor that gamers can optimize with single DPI resolution steps, yeah. There are interchangeable side grips, letting gamers swap our their grips over time.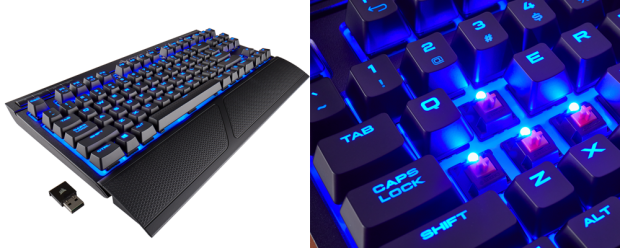 The company is aiming for around 24 hours of wireless gameplay when it's in either 1ms 2.4GHz or the low-latency Bluetooth wireless mode, and that's with the RGB lighting cranking as well.
Corsair is also offering up an SE version of the Dark Core RGB gaming mouse, something that features an integrated wireless Qi charging pad that doubles as the MM1000 mouse pad. This is one of the coolest things, ever. The MM1000 can also charge other Qi-capable devices.
Corsair will be selling the new Dark Core RGB gaming mouse for $79 and will be available later this month, while the SE version rings in at $89, and the MM1000 wireless gaming mouse pad costs $79.