Intel Core i9 mobile CPU teased as Core i9-8950HK
Intel could rock the mobile world with a mobile version of the Core i9 processor.

Published Sun, Nov 26 2017 7:00 PM CST
|
Updated Tue, Nov 3 2020 11:53 AM CST
It looks like Intel is preparing to announce a new mobile variant of its Core i9 processor, with AIDA64 - the popular system information, diagnostics and auditing software, included a tease of Intel's unannounced processors in the latest beta of AIDA64.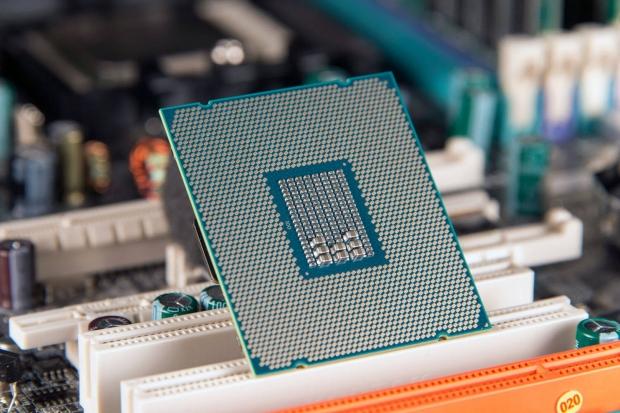 We have now been teased with mobile and desktop Core i3, Core i5, Core i7, and Core i9 processors. The Core i9-8950HK is the most exciting, as it's the first Coffee Lake/Core i9 CPU for notebooks. Better yet, the 8950HK is an overclockable chip that rocks 6C/12T for freaking notebooks.
As for the other unannounced CPUs from Intel, we can expect new Coffee Lake-H processors in the form of a new Core i3 quad-core chip, Core i5 six-core chip, and Core i7 with 6C/12T of power. The full list of 8th and 9th generation processors is long, thanks to AIDA64:
8th generation:
Intel Core i3-8000

Intel Core i3-8000T

Intel Core i3-8020

Intel Core i3-8020T

Intel Core i3-8100T

Intel Core i3-8120

Intel Core i3-8120T

Intel Core i3-8300T

Intel Core i3-8320

Intel Core i3-8320T

Intel Core i5-8300H

Intel Core i5-8400B

Intel Core i5-8400H

Intel Core i5-8400T

Intel Core i5-8420

Intel Core i5-8420T

Intel Core i5-8500

Intel Core i5-8500B

Intel Core i5-8500T

Intel Core i5-8550

Intel Core i5-8650

Intel Core i5-8650K
9th Generation:
Intel Core i3-9000

Intel Core i3-9000T

Intel Core i3-9100

Intel Core i3-9100T

Intel Core i3-9300

Intel Core i3-9300T

Intel Core i5-9400

Intel Core i5-9400T

Intel Core i5-9500

Intel Core i5-9600

Intel Core i5-9600K
Related Tags