GDDR6 reaches 16Gbps, blows away Vega and TITAN X bandwidth
GDDR6 will be ready for a tease at CES 2018, and has been pushed past its original 14Gbps to a huge 16Gbps of bandwidth.

Published Mon, Nov 13 2017 12:27 AM CST
|
Updated Tue, Nov 3 2020 11:53 AM CST
GDDR6 will be the successor to GDDR5, which already rips up the memory bandwidth game, even in the face of HBM2. But now news has us excited, teasing that Samsung had expected 14Gbps of bandwidth from GDDR6 but will instead reach 16Gbps.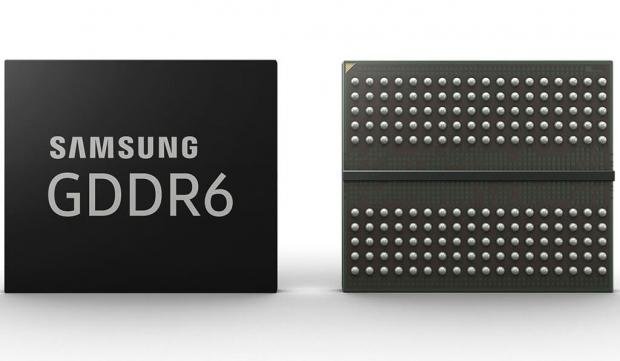 Samsung announced the news as part of their 36 products that have been recognized as Innovation Awards, ahead of CES 2018 in January. Samsung's new 16Gb GDDR6 memory is joined by their Galaxy smartphones and new 8TB NGSFF NVMe SSD.
As for GDDR6, Samsung teases: "It processes images and video at 16Gbps with 64GB/s data I/O bandwidth, which is equivalent to transferring approximately 12 full-HD DVDs (5GB equivalent) per second". Yeah, you got that right - it can handle 64GB/sec of bandwidth, enough for future 4K/8K gaming.
Comparing GDDR6 against GDDR5 will impress, as GDDR5 can be pushed up to 9Gbps on the GTX 1060, GTX 1070, and GTX 1070 Ti. NVIDIA's GeForce GTX 1080 shipped with 8GB of GDDR5 @ 10Gbps, while the GTX 1080 Ti and TITAN Xp rock GDDR5X @ a until-now-at-least blistering 11Gbps. GDDR6 will also use less power, drawing just 1.35V compared to 1.5V for GDDR5 @ 8Gbps.
We should expect NVIDIA's upcoming GPU release to feature GDDR6, which could come in the form of a new Volta-based TITAN graphics card, or a new Ampere-based GeForce graphics card. GDDR6 on a 256-bit memory bus will pack a 512GB/sec of memory bandwidth, while GDDR6 on a 384-bit memory bus could take things to the next level with a mind-blowing 768GB/sec of memory bandwidth.
In comparison, AMD has just 483GB/sec of memory bandwidth on their flagship Radeon RX Vega 64 graphics card, even with its fan-dangled HBM2 technology. NVIDIA still takes the cake with memory bandwidth, with their Volta-based Tesla V100 accelerator pumping away with 901GB/sec courtesy of HBM2 and a huge 4096-bit memory bus.
Related Tags