Ubisoft's microtransaction earnings beat digital sales
For the first time, Ubisoft made more money from microtransactions, DLC, and in-game content than digital download sales in a half-year period.

Published Tue, Nov 7 2017 5:39 PM CST
|
Updated Tue, Nov 3 2020 11:53 AM CST
For the first time ever Ubisoft has earned more from Player Recurring Investment (PRI) than from digital game sales, cementing the company's trajectory towards live service games.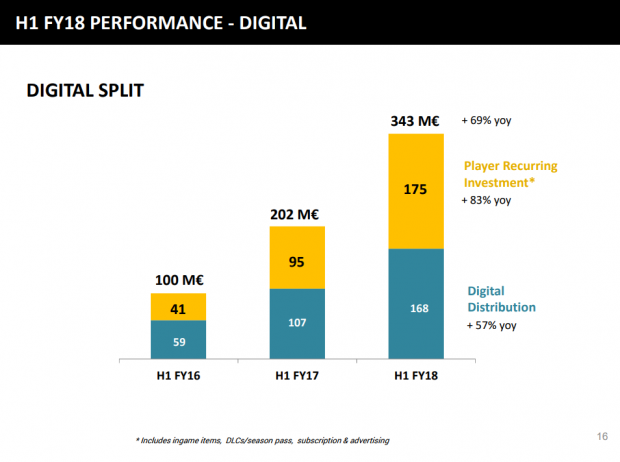 Ubisoft is one of the most fascinating games publishers in the market space; not only has the company dramatically shifted towards a digital-first monetization path that's become repeatedly lucrative, but it's also making waves in player engagement and helping set industry trends. As a result of its multi-tiered slate of live service and singleplayer games like For Honor, Rainbow Six: Siege, Ghost Recon: Wildlands, and more recent Assassin's Creed: Origins, Ubisoft made more money from Player Recurring Investment (microtransactions, in-game purchases, DLC, add-ons, subscriptions, advertising, etc) than it did from digital game sales in the first half of FY2018.
The French games-maker pulled in €174.5 million from PRI in the six-month period from April through September, up 83% year-over-year. PRI beat digital game sales by some €7 million. Digital game sales accounted for €168 million, up 57% year-over-year from 1H'17. The company notes that Assassin's Creed: Origins in-game player spend in optional items is "trending nicely," and that the game has sold 100% more than Assassin's Creed: Syndicate.
But this report isn't all about raw microtransaction earnings: far from it. Engagement is just as important as monetization methodology, and in many ways engagement is a catalyst to PRI spending. Ubisoft has found a very successful model by releasing steady streams of new content for each of its service games and providing value for continual players. The free weekends also help convert players--gamers jump in and try it for free, and if they like it, they buy it for a discount. If they're properly engaged they might spend extra on the game or just enjoy the free content made available by the revenue model.
This milestone marks an important occasion for Ubisoft and may simply be precursors of what's to come. The company has great confidence in FY2019's PRI outcome, and Ubisoft CEO Yves Guillemot was very upbeat about future progress in the Q&A session.
Related Tags