Assassin's Creed Origins microtransactions: how they work
As we predicted, Assassin's Creed: Origins' RPG mechanics are monetized with microtransactions. Here's how they work.

Published Thu, Oct 26 2017 6:10 AM CDT
|
Updated Tue, Nov 3 2020 11:53 AM CST
UPDATE: We're still not sure what kinds of safeguards Ubisoft has put in place to limit certain transactions, ie limiting how many ability points players can buy in a given day or time period. We'll be sure to update this post if we get more information.
Assassin's Creed: Origins embraces microtransactions in a familiar way, and Helix credits are back. the game's monetization strategies align with our original predictions in a number of ways.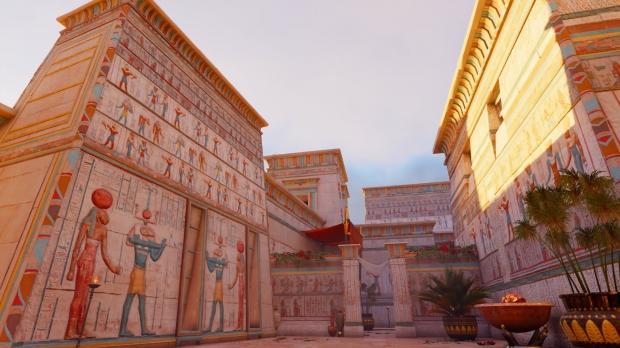 In the months leading up to Assassin's creed: Origins' launch, I predicted that the game's RPG mechanics and randomized gear hooks would be heavily monetized. Lo and behold, Ubisoft is offering a number of optional time-saving microtransactions that can dramatically speed up your efficacy. In a very real sense, you can theoretically pay enough money to become extremely powerful the first day you buy the game. I say theoretically because the Ubisoft Store where you buy the premium Helix currency isn't online yet, so I can't report prices.
As I mentioned above, Helix credits are back. Players will spend real money to buy Helix credits to spend on a huge array of temptations, including powerful epic-grade gear, cosmetic mounts and outfits, crafting items, and drachmas--the game's main currency used for buying and upgrading existing items. In this way, Ubisoft has created a substantial hook in their singleplayer game that perfect fits in with their live service-based business model that's earned them billions.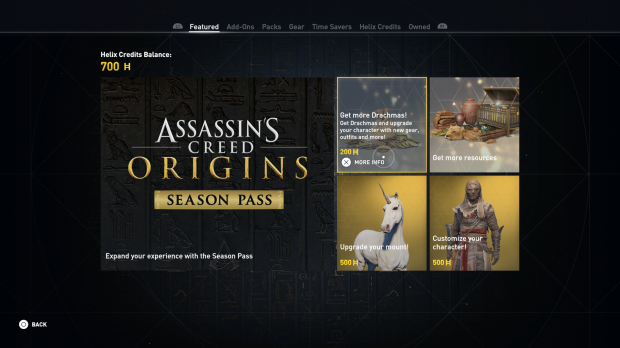 There are four main ways to spend Helix credits in the game, many of which are almost exactly what I outlined a few months ago...sans lootboxes (lootboxes do technically exist, but not in a traditional form--more on that later):
Note: None of the content purchased with real money is randomized in the form of lootboxes.
Add-ons

Packs

Gear

Time Savers
Below is a breakdown of what each of these monetization tiers offer. Remember that prices for Helix credits are not live yet, so I can't review that information.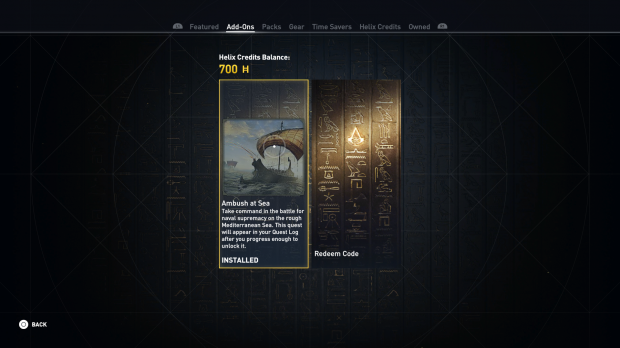 Add-Ons
Small mission packs that expand the experience and give new quests and the like. Prices can't be determined yet because I was given the Gold edition for review, which includes the Ambush at Sea add-on, so I'm not sure how much it costs.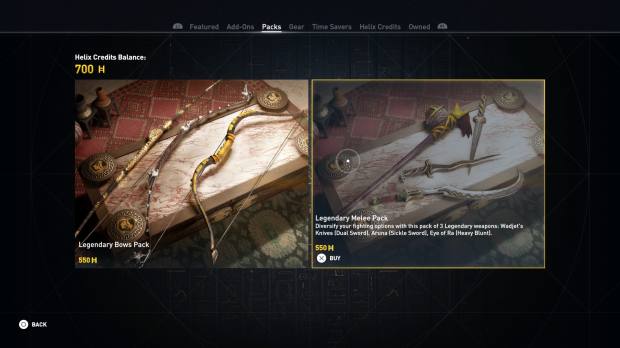 Packs
A bundle of specified higher-end epic weapons such as bows, swords, hammers, etc. You always know what you're getting here.
Cost: 550H a piece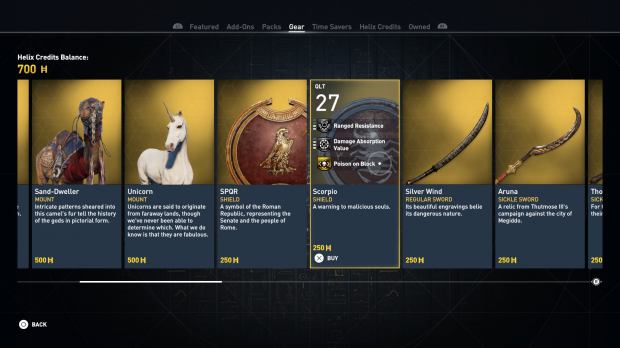 Gear
These include one-off piecemeal purchases specified of high-end legendary items as well as cosmetics that change the look of Bayek and his mount
Cost: 500H each for cosmetics, 250H each for weapons, shields and bows
Time Savers
Drachmas (in-game currency) bundles are sold here. Again, drachmas are used for upgrading items to higher power levels and buying new gear.
They're also used for the Nomad's Bazaar, which sells randomized lootboxes of gear called Heka Chests and the most powerful crafting items in the game. So you can't directly spend money to buy lootboxes, but you can use money to buy drachmas to buy lootboxes.
In my opinion, this is the way to do lootboxes...but the temptation is still there. I'm constantly collecting drachmas everywhere I go, and sometimes it feels this feature was artificially elongated to push me towards a one-off purchase of drachmas so I don't have to worry about money so much.
But to be fair the game is liberal with its money allotment--you just have to spend time to collect it.
Cost: 200H for 2,000 drachmas, 1000H for 11,000 drachmas, and 2000H for 24,000 drachmas
The Time Savers tab also includes the option to buy 3 skill points at 300H a pop, pretty much allowing gamers to pump in enough money to max Bayek out right away.
Material packs can also be purchsed for 200H for 40 of every cratfting material and 1000H for 300 of every crafting material. These materials are used to upgrade your passive-level gear such as breastplates, bracers, and tool kits, all of which have a direct affect on gameplay. You can't use materials to upgrade gear such as shields and weapons.
You need to do a fair bit of hunting and exploring to get materials, but the game isn't unreasonable. This propels you to explore the majestic land of ancient Egypt. However, each successive upgrade to your breastplate, bracers, tool kit, stabilizer glove, quiver, etc costs more materials. For a simple example, the first time you upgrade it costs X mats, the second time it's X+1, and so on.
Last but not least, gamers can buy shortcut maps to ancient treasure for various prices from 400H to 200H a piece.These maps will show areas on the in-game map that house powerful gear, materials, and an opportunity to earn more drachmas.
Conclusion
All in all I'm not surprised that Ubisoft chose this path. After all, Assassin;s Creed: Origins has no online multiplayer component. Simply looking at the company's revenue model and business structure led me to believe that AC: Origin's RPG mechanics would be monetized as they offer a unique opportunity to combine the RNG drop rates of, say, Diablo, with the open-world exploration of Assassin's Creed.
Be sure to keep a look out in the coming days for more impressions and our feature-length Assassin's Creed: Origins review.
Related Tags