Firm: Nintendo Switch to sell 115.8 million units by 2023
Japanese holdings company Nomura Securities lays a lofty sales prediction for Nintendo's new Switch system.

Published Tue, Nov 7 2017 8:43 AM CST
|
Updated Tue, Nov 3 2020 11:53 AM CST
As Nintendo's new Switch handheld-console hybrid continues strong sales momentum, analyst firms and holding companies are adjusting their predictions. One such firm, Nomura Securities, predicts the Switch will surpass the Wii's sales by 15% by the year 2023.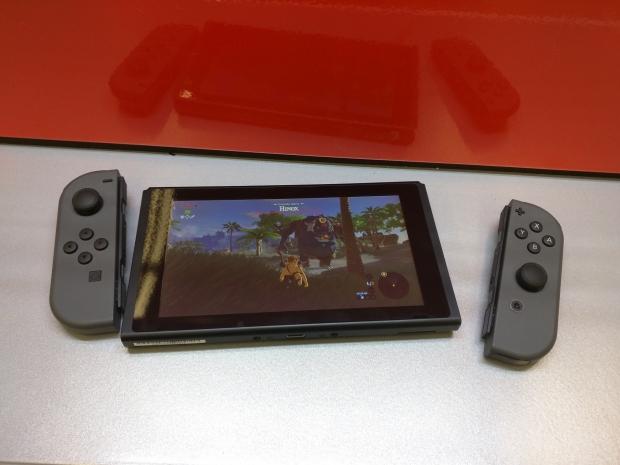 In light of Nintendo's latest Q2 financials, Japanese securities group Nomura Securities has updated its long-term sales forecast for the Nintendo Switch console to 115.8 million units by the fiscal year ending March 2023, reports The Wall Street Journal's Takashi Mochizuki. This estimate would firmly set the Switch between two of Nintendo's all-time bestselling hardware: 14.95 million unit sales above 2006's breakout Wii system and 38.22 million unit sales below 2004's superstar DS handheld.
This isn't the only huge prediction made by analysts. Swiss brokerage firm Credit Suisse made an outperform forecast of 130 million Switch sales by March 2022. On its forecast the group says it "expects the Switch to sell like a handheld," and the firm's peak-year sales have been upgraded from 25 million to 31 million units.
Nintendo may release another handheld-only Switch hardware iteration to make a family of systems, which would bolster sales significantly. Citigroup expects a smaller "Switch Mini" handheld to release by 2019 as Nintendo moves away from the 3DS and towards its own Switch lineup.
"Although the Nintendo Switch can be used as a handheld device, we think smaller children could struggle to use it comfortably in that format due to its size and weight," Citigroup analysts like Minami Munakata, Kota Ezawa and Alicia Yap predicted in a recent report. "Accordingly, we think Nintendo will launch a lighter, dedicated handheld version of the Switch, possibly to be called the Switch Mini."
Nintendo recently confirmed that more than half of Switch owners primarily use the device on-the-go as a handheld or in Tabletop Mode.
Nomura Securities also predicts Nintendo will sell 23 million Switch units through the fiscal year ending March 2019.
As of September 30, the Japanese console-maker has sold 7.65 million Switch consoles worldwide. As a result of continual momentum Nintendo has adjusted its sales target from 10 million units sold to 14 million by the end of the fiscal year.
Related Tags