Broker: Nintendo to sell 130 million Switch by 2022
Investment firm Credit Suisse sees big numbers in Nintendo's future.

Published Sep 20, 2017 10:18 AM CDT
|
Updated Tue, Nov 3 2020 11:54 AM CST
Nintendo will sell 130 million units of its Switch handheld-console hybrid in four years of availability, investment firm Credit Suisse predicts.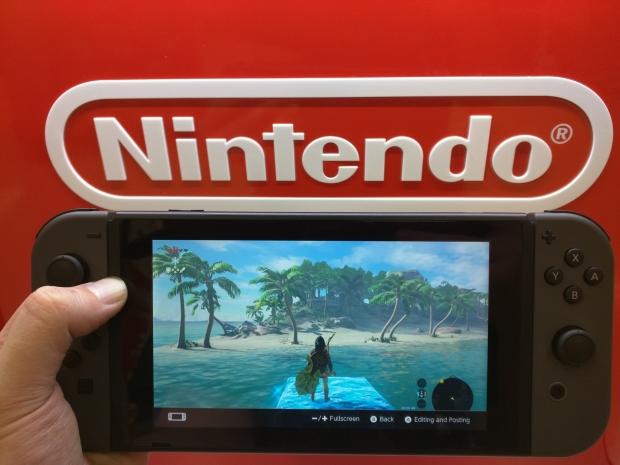 Japanese console-maker Nintendo has been lifted to "outperform" status by Swiss investment broker Credit Suisse, who now forecasts the company to sell around 130 million Switch consoles by 2022. This prediction, which would see the Nintendo Switch beating the mega-popular Wii and the 3DS' current 67.08 hardware sales by 94% in four years, is predicated wholly on the basis that the Switch will be accepted mainly as a handheld by consumers. However Nintendo has been adamant in defining the Switch as a "home console first and foremost," and the portability aspect is seen as a sidenote, despite the fact regions like Japan thrive on handheld gaming.
Credit Suisse analyst Keiichi Yoneshima explains the prediction by saying the Switch will hit its sales peak about three years after its launch, or 2022 during Nintendo's fiscal 2019 year timeline.
"As Nintendo's Switch is a unique game platform for use as either a console or handheld, there was initially some uncertainty over whether its sales cycle would more closely resemble that of a console or handheld. Although the Switch is currently categorized as more of a console, we expect it to sell like a handheld," the analyst said.
"Many users are in fact using the Switch as a portable according to a Famitsu survey of users. We previously projected a sales peak at about three years after launch (i.e., in FY3/19) on the assumption of a console-like sales cycle. Now that the Switch looks more likely to sell like a handheld, we update our sales forecast to reflect a longer sales cycle. We now expect the Switch to achieve peak sales about five years after launch (i.e., around FY3/20-21) like a typical handheld game device. We also raise our peak-year sales forecast from 25mn to 31mn units."
Read Also: Nintendo Switch hardware sales in dominant position
If the Switch sells 130 million units in three years, the console will be just 24.02 million units less than the original DS handheld's mighty 154.02 million lifetime sales.
The Switch, which released in March 2017, has currently sold 4.7 million units globally as of June 30, 2017. Nintendo wants to sell at least 10 million Switch consoles in the fiscal year ending March 2018, and currently has to sell 5.3 million units to meet this goal.
Based on industry trends and market availability, I've predicted Nintendo will sell the bulk of this remaining unit target in the holiday season as the company disseminates and distributes a mass surplus of Switch consoles to compliment the launch of Super Mario Odyssey.
Related Tags