Dota 2 Midas Mode tournament set for November 18
Midas Mode tournament features 8 of the world's best teams in Fantasy Football meets Dota 2.
Published Wed, Oct 4 2017 8:45 AM CDT
|
Updated Tue, Nov 3 2020 11:53 AM CST
With Dota 2's new competitive season about to commence, much of the discussion has been about Valve's new Minor-Major system that begins with StarLadder October 11. In somewhat of a slight novelty, MoonduckTV has announced a new concept entitled "Midas Mode", with the tournament commencing November 18. Midas Mode pits eight teams (4 North America and 4 European) against each other in somewhat of a Fantasy Football meets Dota 2.
Each team is given a set amount of virtual currency, or "Moonbucks", this currency is then used to purchase actions in every aspect of the game. This includes picking and banning heroes, playing as Radiant or Dire and pausing in game will all cost you Moonbucks. This adds an extra level of strategy to the game as popular heroes will cost more, in fact hero prices will fluctuate depending on their win-rate and popularity. Do you spend Moonbucks picking popular heroes? Or do you spend your Moonbucks banning opposition comfort picks? It is up to the team's captain, he just has to make sure there's enough Moonbucks to pause for toilet breaks!
What happens when the bank runs dry? When a team is out of Moonbucks, penalties will occur. They will be forced to pick from a hero-pool of the worst performing heroes, they won't be able to ban, choose sides or even pause. Teams do have a chance to make their Moonbucks back via the Bounty System. The Bounty System is where the viewers can suggest challenges for the pros to attempt so they can earn Moonbucks. Simple right? The harder the challenge, the more Moonbucks to be earnt. A challenge may consist of something simple like winning a game as Techies, or a little more challenging like drafting a lineup consisting entirely of flying heroes, it's up to viewers to set the bounty.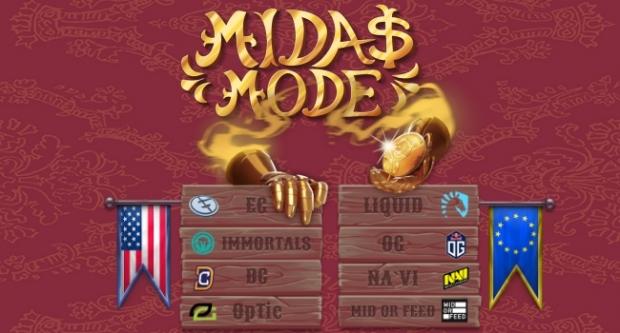 No official prize pool has yet been announced, but the invited teams looks like a Main Event final 8 with TI7 champions Team Liquid, Team OG, Natus Vincere and MidOrFeed representing Europe with Evil Geniuses, Immortals, OpTic Gaming and Digital Chaos representing NA. This is going to be one fun and exciting tournament.
Related Tags