Skyrim is awkward to play on PSVR
Teleportation might be fine for most VR games, but it's not so good for open-world games like Skyrim.

Published Wed, Aug 23 2017 6:32 PM CDT
|
Updated Tue, Nov 3 2020 11:54 AM CST
Skyrim is supposed to be one of virtual reality's killer apps, but it's actually tedious and clumsy to play on Sony's PlayStation VR.
After launching on all platforms known to man (only slightly joking here), Skyrim is coming to PlayStation VR--and not just a small slice as per the usual PSVR release, the full open-world game. But the experience is hindered by one critical aspect: teleportation. Like most Vive VR games, users will have to teleport from point-to-point to traverse Skryim's in-game world while using Move controllers. According to IGN's Alanah Pearce, Skyrim on PSVR is awkward and tedious when using these motion-tracked wands, and there's more than a few glitches.
The wands are there, of course, to track your hand movements and translate to in-game interactions, from pulling a bowstring to slicing and dicing with a sword and blocking with a shield. The Move controllers aim to add the critical point of immersion to the virtual reality experience, but at the cost of smooth movement. According to Ms. Pearce, teleporting makes for strange-feeling traversal throughout open-world areas as well as congested dungeons, and doesn't feel very smooth or natural.
Despite the awkward controls, Skyrim VR is apparently very majestic and immersive. Sony and Bethesda have apparently removed all essence of motion sickness with the teleportation system, but I'm still hoping the game can be played with a traditional DualShock controller when it launches.
Skyrim for PlayStation VR is slated to release sometime this year. Let's hope that Fallout 4 on the HTC Vive fares better, but I'm still expecting teleportation movement schemes with the wand controllers.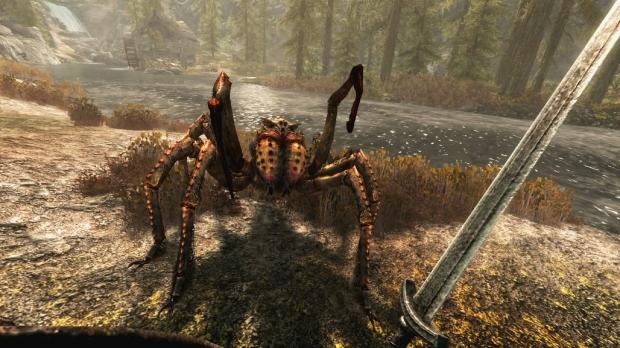 Related Tags