No Man's Sky celebrates birthday with big portal update
No Man's Sky gets a big portal-themed birthday bash, and Hello Games promises this is 'just the beginning'

Published Wed, Aug 9 2017 1:32 PM CDT
|
Updated Tue, Nov 3 2020 11:54 AM CST
Hello Games continues adding content to No Man's Sky a full year after the game's hotly controversial release in an effort to heal gaping wounds and expand upon the sci-fi adventure.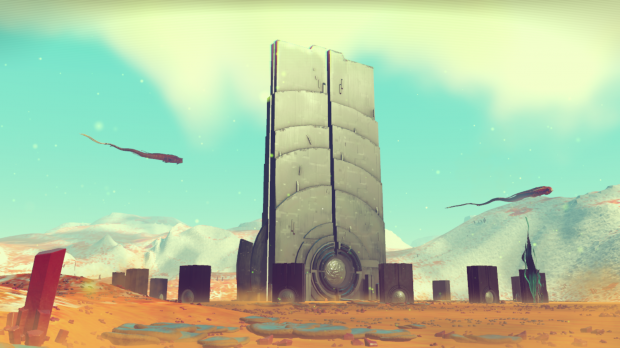 A year ago No Man's Sky was launched on PlayStation 4 and PC as a fully-priced AAA game, kicking off a massive wave of frustration. We've chronicled how No Man's Sky underdelivered in our official review. Instead of a final release, the game was simply the foundation for things to come. Now those things are here.
No Man's Sky is getting its third major overhaul update this week. The free expansion is called Atlas Rises, and adds a bevy of new content to the game including portals that allow players to fast-travel across the galaxy, and more story-based content. Hello Games head Sean Murray confirmed Atlas Rises' content with a mass email blast to No Man's Sky players, saying:
"It's been a year since No Man's Sky first released, and it's been an exciting, intense and emotional year for us at Hello Games. We have been quiet, but we have been listening intently.
"We've spent that year working hard on free updates for this game our team cares so much about.
"Update 1.3 will release this week and will be available for free to all No man's Sky players. We're calling it Atlas Rises. It focuses on improving the central story of No Man's Sky and adds the ability to quick travel between locations using portals."
If only Hello Games had been more transparent on what No Man's Sky is and would be, the game might not've fallen so hard. Essentially No Man's Sky is the heart of the Games-As-A-Service (GaaS) trend that's taken of the games industry; gamers paid a full $60 and received a number of big content updates over time. The real problem here is that Hello Games wasn't forthright about the launch content, and as an indie studio, the team isn't adequately equipped to disseminate constant content updates to keep players engaged.
And, of course, No Man's Sky is missing the biggest benefit of the GaaS model: microtransactions.
These updates typically revitalize the game's playerbase and surges active players for a period of time, but the real issue is that Hello Games isn't really directly benefiting from this resurgence insofar as monetary compensation. However, many gamers would argue that the devs have already been paid with the massive earnings pulled in from launch sales and pre-orders.
It'll be interesting to see how No Man's Sky continues to evolve over time. The game has already had two major content updates--Foundation and Path Finder--that expand the in-game content, ensuring the launch experience has been ebbed away as if it were never there.
But the real problem is that gamers haven't forgotten, and they're not ready to forgive just yet.
Related Tags