Grand Theft Auto Online appears to be an unstoppable juggernaut, and Rockstar Games parent company Take-Two Interactive is making revenues hand-over-fist as a result.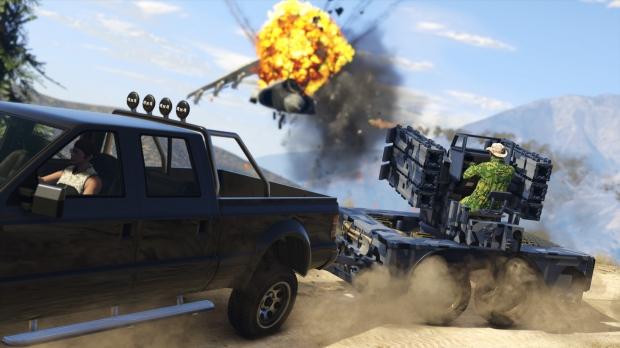 In its fiscal Q3'18 earnings report, Take-Two Interactive announces that Grand Theft Auto Online has just enjoyed its biggest quarter yet. The massively lucrative online mode broke two records in the three-month period ended June 30: most earnings in a single quarter, and most monthly active users (MAUs), both of which were driven by massive engagement from new content updates like the Gunrunning DLC.
GTA Online contributed to Take-Two's quarterly performance across the board, from the $418.2 million in net revenues (up 34% YoY) earned during the period to the $348.3 million in net sales (up 28% YoY) gleaned in fiscal Q1'18. Bear in mind the company earned these revenues without releasing a new game, and 94% of earnings were from catalog titles. Take-Two Interactive CEO Strauss Zelnick confirms GTA Online was the single most largest contributor to the $171.468 million earned from recurring consumer spending during the period, which was boosted by a massive 71% year-over-year.
"Grand Theft Auto V and Grand Theft Auto Online continue to outperform our expectations during the first quarter, nearly four years after their initial release," Mr. Zelnick said during the company's quarterly earnings call.
"Grand Theft Auto Online delivered its best quarter ever, substantially exceeding our net sales expectations and was once again the single-largest contributor to recurring consumer spending. Rockstar Games has continued to drive sustained engagement and growth in recurring consumer spending with the ongoing release of free additional content.
"On the heels of the substantial new Gunrunning update, June and July became our two biggest months ever for GTA Online monthly active users. Rockster Games will cotninue to support the game going forward."
Read Also: Digital drives big quarterly earnings for Take-Two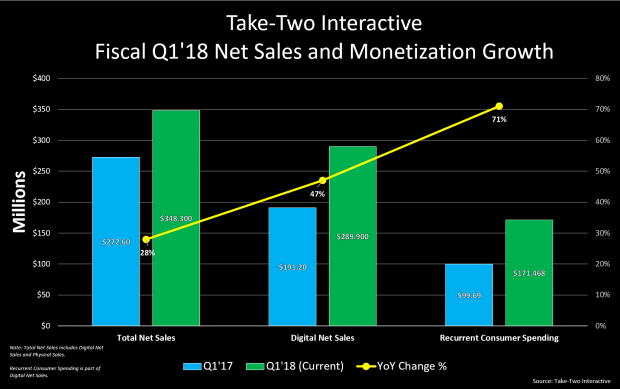 GTA Online is also one of the company's biggest drivers for digital supremacy, followed by annual sports releases like NBA 2K17 and WWE 17. Thanks to earnings from microtransactions, DLC, add-ons, and full game downloads, the company's digital earnings tower above physical revenue. Digital accounted for 64% of total net revenues during the quarter, or $268.235 million, whereas physical accounted for 36% with $149.981 million.
The company's lucrative properties are also making most of their money on consoles. Consoles pulled in 82% of net revenues in the fiscal Q1'18 period, continuing a consecutive six-year quarterly streak.
Due to Grand Theft Auto Online's massive success, Take-Two forecasts that earnings won't slow down until the third quarter. GTAO earnings for fiscal Q2'18 are expected to break previous guidance and the online mode isn't expected to moderate until the third quarter, where it will continue to moderate throughout the fourth quarter from January - March 2018.
"As a result of Grand Theft Auto Online's performance in the first quarter we now expect the game to deliver net sales growth during fiscal 2018 and another consecutive year of record results," Mr. Zelnick affirmed during the call.
Rockstar Games will continue supporting GTA Online with free content updates well into the current and next fiscal years.
Fiscal Q1'18 Earnings At-A-Glance
Net Revenues
$418.2 million
up 34% year-over-year
biggest contributors: GTA Online, GTA V, NBA 2K17
Net Sales
$348.3 million
up 28% year-over-year
catalog made up 94%
biggest contributors: GTA Online, GTA V, NBA 2K17
Digitally-delivered Net Sales
$280.9 million
up 47% year-over-year
Recurrent Consumer Spending
$171.468 million
up 71% year-over-year
52% of digitally-delivered net sales
41% of total net revenue
Operating Income
$60.276 million
up 255.92% year-over-year
Digitally-delivered Net Revenue
$268.2 million
up 56% year-over-year