Toshiba announces world's first QLC flash memory
Toshiba announces its next-generation 3D NAND flash memory that offers the world's largest per-die capacity.

Published Wed, Jun 28 2017 7:27 PM CDT
|
Updated Tue, Nov 3 2020 11:55 AM CST
Toshiba today announced its new high-end BiCS flash memory built on QLC technology (quadruple-level cell), offering a 50% increase in per-package capacity up to 1.5TB.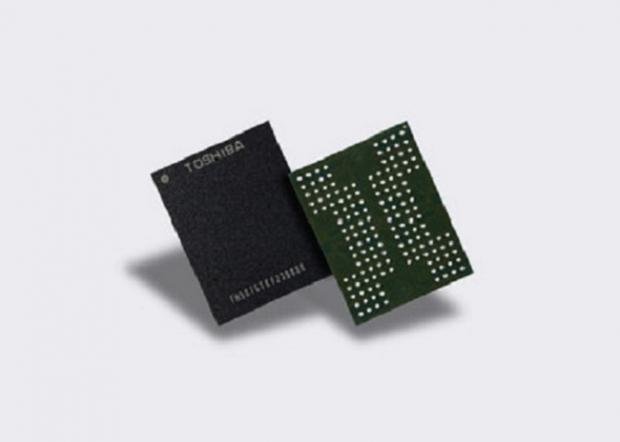 Toshiba's new third-generation QLC BiCS flash is the world's first 3D NAND memory built on 4-bit-per-cell technology, enabling capacities of 96GB, the largest the memory industry offers to date. Toshiba affirms that QLC BiCS flash can be stacked in 16 dies per package, enabling up to 1.5TB of storage capacity in a single package.
Forward Insights analyst Greg Wong assets that Toshiba's new QLC flash will be tremendously beneficial for datacenters.
"The introduction of QLC technology sets the stage for solving many of the challenges facing datacenters today," noted Greg Wong, founder and principal analyst at Forward Insights.
"For datacenters, QLC SSDs can be an excellent design choice for reducing power consumption and lowering footprint. Additionally, as the push for higher capacity HDDs leads to an increase in areal density and drives up the weight per successive generation, it has become common to see a 42U rack only half-filled due to exceeding maximum weight or power supply. Flash memory-based storage solutions weigh less and realize improved power efficiencies, enabling datacenters to achieve maximum rack capacity."
Toshiba says that its new QLC flash memory tech targets multiple segments including enterprise and consumer SSDs, tablets, and memory cards.
"From SLC to MLC and MLC to TLC, large technology shifts are often met by industry resistance and the introduction of QLC is no exception," noted Scott Nelson, senior vice president of TAEC's memory business unit.
"There will always be demand for compelling storage solutions that bring higher densities and produce a favorable cost/performance equation - our QLC technology falls squarely into that sweet spot. History has proven us right in the past when it comes to our visionary flash memory roadmap, and we fully expect QLC BiCS FLASH to continue our industry-leading track record."
QLC flash samples will be showcased at the 2017 Flash Memory Summit in August.
What sets BiCS FLASH apart?

Higher Density and Capacity

Our 3D flash memory stacking technology (we were the first in the world5 to announce this, by the way) gives BiCS FLASH far higher die area density compared to 2D NAND. BiCS FLASH reduces the chip size by optimizing both circuit technology and the manufacturing process.

Faster Programming

The spaces between memory cells in BiCS FLASH are much wider than those in 2D NAND flash memory. The result? Programming speed is improved (by increasing the amount of data for a single programming sequence).

More Reliable

BiCS FLASH reduces cell coupling and improves reliability when compared to 2D NAND flash memory.

Uses Less Power

BiCS FLASH reduces the power consumption per unit of programming data by increasing the amount of data for a single programming sequence (when compared to 2D NAND flash memory).
Related Tags