Toshiba America Electronic Components, Inc. (TAEC)* today announced the latest generation of its BiCS FLASHTM three-dimensional (3D) flash memory1. The newest BiCS FLASH device features 4-bit-per-cell, quadruple-level cell (QLC) technology and is the first2 3D flash memory device to do so. Toshiba's QLC technology enables larger (768 gigabit) die capacity than the company's third-generation 512Gb 3-bit-per-cell, triple-level cell (TLC), and pushes the boundaries of flash memory technology.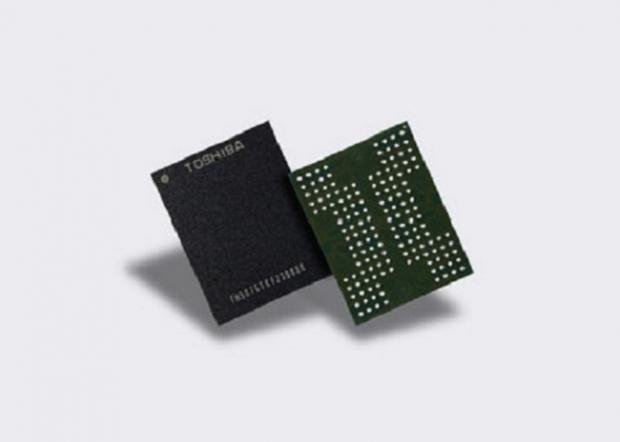 Toshiba's new QLC BiCS FLASH device features a 64-layer stacked cell structure and achieves the world's largest die capacity3 (768Gb/96GB). QLC flash memory also enables a 1.5-terabyte (TB) device with a 16-die stacked architecture in a single package - featuring the industry's largest capacity4. This is a fifty percent increase in capacity per package when compared to Toshiba's earlier announcement of a 1TB device with a 16-die stacked architecture in a single package - which also offered the largest capacity in the industry at the time.
The technical challenges posed by QLC technology needed to be overcome, as increasing the number of bits-per-cell by one within the same electron count requires twice the accuracy of TLC technology. Toshiba has combined its advanced circuit design and leading 3D flash memory process technology to overcome this challenge, successfully creating the world's first QLC 3D flash memory.
The timing of this achievement is especially beneficial to datacenters.
"The introduction of QLC technology sets the stage for solving many of the challenges facing datacenters today," noted Greg Wong, founder and principal analyst at Forward Insights.
"For datacenters, QLC SSDs can be an excellent design choice for reducing power consumption and lowering footprint. Additionally, as the push for higher capacity HDDs leads to an increase in areal density and drives up the weight per successive generation, it has become common to see a 42U rack only half-filled due to exceeding maximum weight or power supply. Flash memory-based storage solutions weigh less and realize improved power efficiencies, enabling datacenters to achieve maximum rack capacity."
Toshiba Memory Corporation was among the first to produce 64-layer 256-gigabit (32GB) devices, and has continued to demonstrate its leadership position by advancing the development of its technology. Toshiba was the first company to publically discuss QLC technology (at last year's Flash Memory Summit) and it has long been a part of the company's roadmap strategy for high-density, smaller chip size flash memory solutions. The new QLC device is targeted to applications including enterprise and consumer SSDs, tablets and memory cards.
"From SLC to MLC and MLC to TLC, large technology shifts are often met by industry resistance and the introduction of QLC is no exception," noted Scott Nelson, senior vice president of TAEC's memory business unit.
"There will always be demand for compelling storage solutions that bring higher densities and produce a favorable cost/performance equation - our QLC technology falls squarely into that sweet spot. History has proven us right in the past when it comes to our visionary flash memory roadmap, and we fully expect QLC BiCS FLASH to continue our industry-leading track record."
Samples of Toshiba's groundbreaking QLC device began shipping earlier in June to SSD and SSD controller vendors for evaluation and development purposes. Additionally, samples will be showcased at the 2017 Flash Memory Summit, taking place from August 7-10 in Santa Clara, California.
Last updated: Apr 7, 2020 at 12:11 pm CDT