Almost half of the world's total video games playerbase will spend money while they play games in 2017, according to analyst firm Newzoo.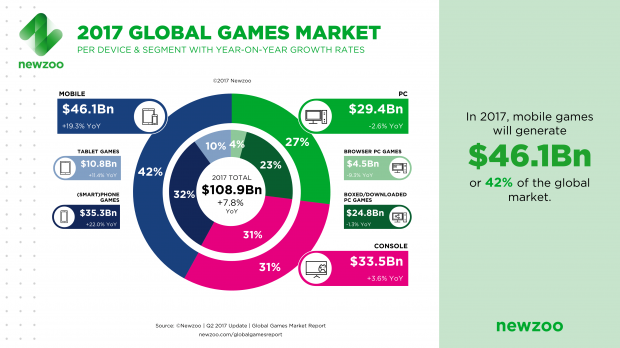 In-game purchases such as microtransactions, add-ons and expansions are a lucrative part of the video games industry, and modern games typically ship with some sort of digital online component to facilitate long-term revenues.
For example, more and more games in the console sector are switching to models with online multiplayer with free updates and content paid for by in-game spending, such as EA's new Star Wars Battlefront II and Activision's new Destiny 2. These specific games mimic the successful revenue models of mobile games while charging a $59.99 premium for the base game, but consoles also offer numerous free-to-play experiences like SMITE.
This trend is set to continue throughout 2017 and beyond, and more and more gamers are projected to spend money as they play games.
According to analyst firm Newzoo, 47% of all gamers in 2017 will spend money as they play games. The firm estimates 2.2 billion consumers play and spend money on video games worldwide, and 47% of them, or 1 billion gamers, will buy in-game items and content as they play. Consumers are expected to spend $108.9 billion on games and content in 2017, up a strong 7.8% year-over-year ($7.8 billion).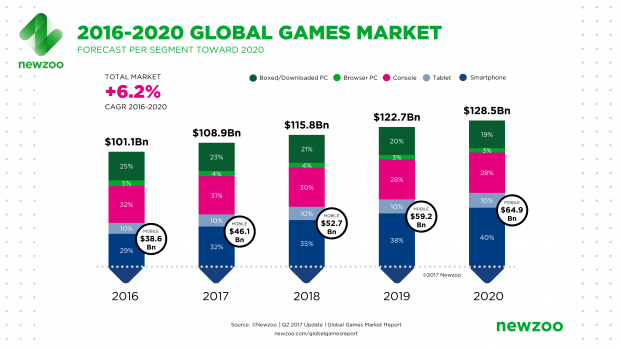 Digital game revenues are expected to make 87% or $94.4 billion of total global market earnings, Newzoo says. In-game microtransactions in the mobile gaming segment are massively profitable and are expected to make up 42% of total global games revenues in 2017, or $46.1 billion. Mobile games will also make up more than half of all digital game revenues for the year--the bulk of which will likely be made up of microtransactions and in-game spending.
In 2016 mobile gaming pulled in a total of $40.6 billion, according to research firm Superdata, with strong 2.6 billion monthly active users playing games every month. Superdata notes the top mobile games earners for 2016 included free-to-play titans like Monster Strike at $1.3 billion, Clash of Clans at $1.2 billion, and Clash Royale at $1.1 billion in year-to-date 2016 revenues.
Read Also: Battlefront II may have card-based microtransactions
Outside of mobile, major publishers like Take-Two Interactive, who publishes the popular Grand Theft Auto series on consoles and PC, pulled in $460.85 million via in-game spending in digital purchases for games like Grand Theft Auto Online.
Electronic Arts is likewise adept at monetizing its games and pulled in $1.68 billion via digital in-game spending, which includes microtransactions. Top-earning mTX-powered live service games include EA's massively lucrative FIFA and Madden Ultimate Team content.
With the might of Blizzard's Hearthstone, Heroes of the Storm, and Overwatch, and its own Call of Duty series, Activision is the king of monetization in the console and PC space. The publisher reported $3.6 billion earnings from in-game content revenues in 2016, which includes microtransactions, DLC, and other add-ons.