Cyberpunk 2077 hacked data held for ransom
Thieves steal early Cyberpunk 2077 designs from CD Projekt RED, threaten to release them to public if demands aren't met.

Published Thu, Jun 8 2017 11:14 AM CDT
|
Updated Tue, Nov 3 2020 11:55 AM CST
CD Projekt RED, the developer of The Witcher 3 and highly anticipated Cyberpunk 2077, today confirmed that thieves have stolen early designs and documents for Cyberpunk 2077 and are holding the stolen content for ransom.
Early designs for CD Projekt RED's new Cyberpunk 2077 game have been hijacked by hackers, and are being held for ransom by the cyber assailants. If CDPR doesn't meet their demands, the hackers will release the information to the public. But the Polish developer says that these designs are "old and largely unrepresentative of the current vision for the game." As we've reported, Cyberpunk 2077 will leverage extensive next-generation features, tools, engines and technology to create something truly awe-inspiring.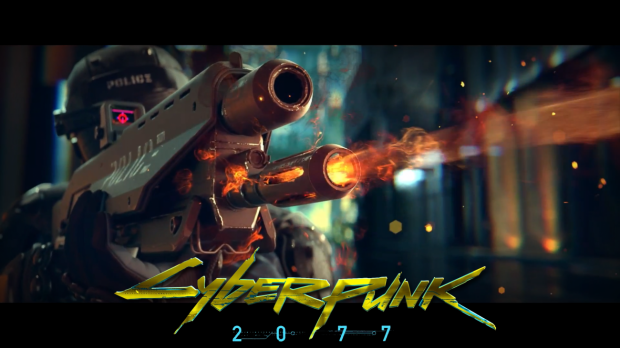 "An unidentified individual or individuals have just informed us they are in possession of a few internal files belonging to CED PROJEKT RED. Among them are documents connected to early designs for the upcoming game, Cyberpunk 2077," CD Projekt RED today revealed.
"A demand for ransom has been made, saying that we should not comply, the files will be released to the general public. We will not be giving in to the demands of the individual or individuals that have contacted us, which might eventually lead to the files being published online. The appropriate legal authorities will be informed about the situation."
"The documents are old and largely unrepresentative of the current vision for the game. Still, if you're looking forward to playing Cyberpunk 2077, it would be best for you to avoid any information not coming directly from CD Projekt RED.
"When the time is right, you will hear about Cyberpunk 2077 from us--officially."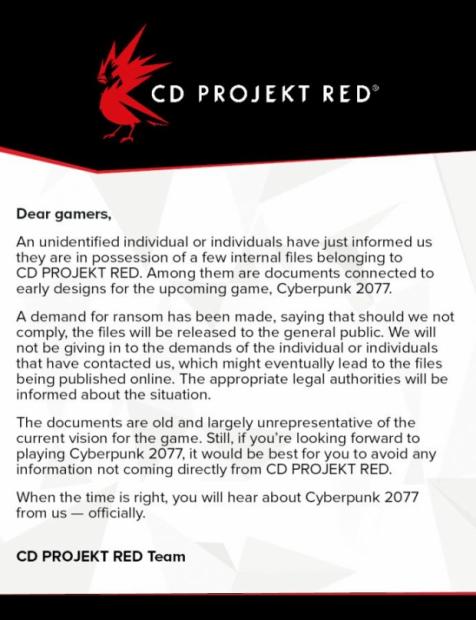 Related Tags