Sony's Project FIELD mobile tech may release in 2017
Sony's interesting new Project FIELD tech, which merges physical trading cards with mobile gaming, may release this year.

Published Wed, May 24 2017 11:25 AM CDT
|
Updated Tue, Nov 3 2020 11:55 AM CST
Sony has indicated its new Project Field technology, which allows consumers to use physical trading cards to play against other users digitally, may be released this year.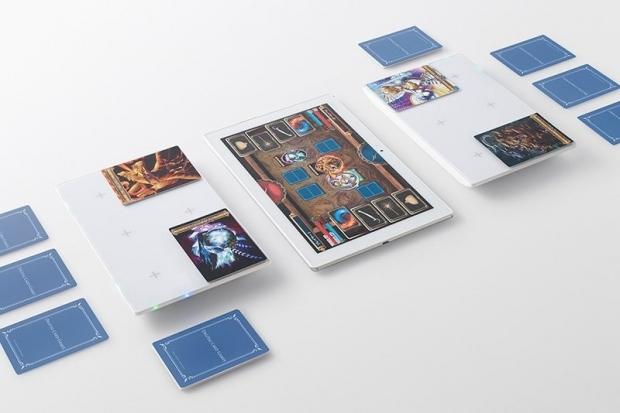 Following Nintendo's push towards mobile gaming, Sony is making its own earnest effort to embrace smartphone games and get a cut of the lucrative industry. Sony Interactive Entertainment started its own proprietary mobile games company called ForwardWorks, which will adapt the company's popular IPs--as well as key third-party partners' IPs such as Square Enix--into mobile games.
Upcoming mobile titles include entries from the Arc The Lad and Wild Arms franchises, as well as Parappa the Rappa and Disgaea.
However, one of Sony's most interesting takes on mobile is Project FIELD.
With Project FIELD, SIE aims to tap the lucrative worlds of physical and digital card gaming by combining the two using a smartphone add-on device. Users place physical trading cards onto the device's top, which then send signals to the digital smartphone game, effectively letting friends play actual trading card games with one another across the internet.
Project FIELD's compatible trading cards are not unlike Nintendo's amiibos which use special chips to unlock in-game content, and the device is not unlike an NFC reader that processes amiibo chip signals.
"A new game development developed by Sony, Platform "Project FIELD" platform that blends real trading card game and smartphone application! Forward Works provides content! # ForwardWorks," reads Sony Japan's official Tweet.
ForwardWorks will develop unique mobile games specifically designed to compliment Project Field, the first of which will be a game set in the popular Yokai Watch series. Sony may also acquire the rights for Digimon trading card experiences as well, but don't expect The Pokemon Company to let Sony use its Pokemon trading card game.
Now we know what Project FIELD is, let's talk about why we think it'll release in 2017.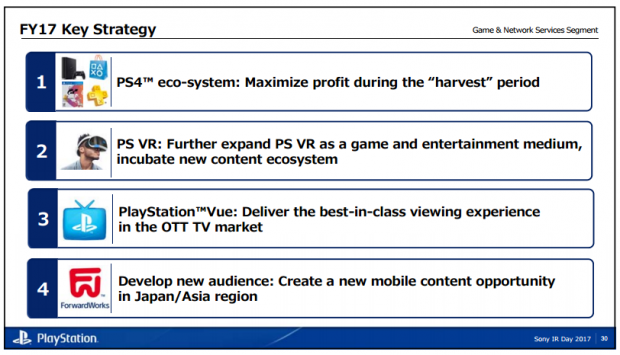 At its most recent Investor's Day Meeting, Sony Interactive Entertainment highlighted mobile gaming as part of its major goals for Fiscal Year 2017. In fact, Project FIELD is explicitly mentioned in the briefing.
While it's true that Sony's fiscal year ends on March 2018, meaning that Project FIELD may release in 2018 instead, it'd behoove Sony to release the peripheral as soon as it's ready in order to gain key insight and knowledge about the market for future plans and content.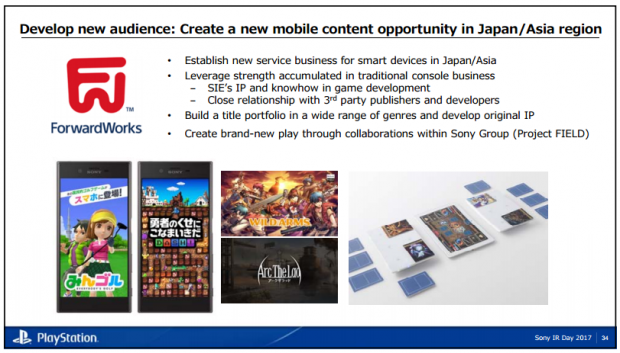 Smartphone and collectible card gaming are lucrative in Japan and Asia, and Sony sees a clear opportunity to tap a market.
However the company may have a hard time convincing key IP holders to join into Project FIELD simply because it merges physical trading cards with digital, and these companies typically make more money monetizing these two things separately. For example, Sony may have difficulty securing the rights to Konami's Yu-Gi-Oh franchise for Project FIELD specifically because the series has both digital and physical trading card presences.
It'll be interesting to see how Sony's gambit pays off, and whether or not it can monetize this new unique roadmap that combines two separate form factors of a popular industry.
Develop new audience: Create a new mobile content opportunity in Japan/Asia region
Establish new service business for smart devices in Japan/Asia

Leverage strength accumulated in traditional console business

- SIE's IP and know-how in game development

- Close relationship with 3rd party publishers and developers

Build a title portfolio in a wide range of genres and develop original IP

Create brand-new play through collaborations with Sony Group (Project FIELD)
Related Tags