Sony's new add-on merges trading cards with mobile games
Sony's plan to merge collectible card games with mobile gaming is brilliant, and could be a huge win for the company.

Published Wed, Dec 7 2016 4:22 AM CST
|
Updated Tue, Nov 3 2020 11:57 AM CST
In an effort to counter Nintendo and one-up its previous ill-fated efforts, Sony Interactive Entertainment is pushing full steam ahead into mobile gaming. This time around, however, the Japanese games-maker has a secret up its sleeve: a new smartphone add-on that merges trading cards and mobile games.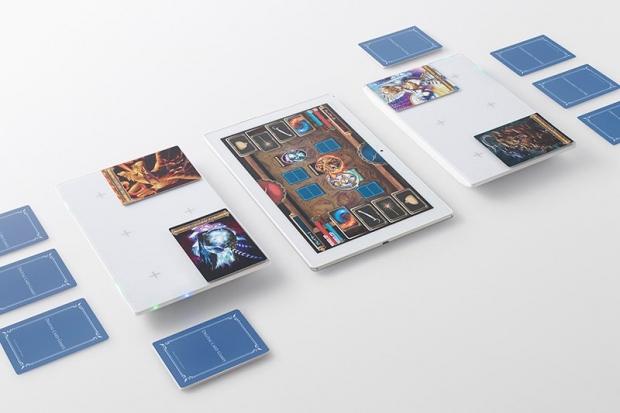 SIE's mobile gaming push is facilitated under Forward Works, a new proprietary banner that will oversee mobile adaptations of major popular Japanese gaming franchises like Arc the Lad, Wild Arms, Parappa the Rapper, Disgaea, and more--all of which are coming to smartphones as mobile games. Not content with the basics of smartphone gaming, Sony has decided to transcend the platform's barriers with Project Field, a unique hardware peripheral that will unify two very popular and profitable realms of gaming.
Project Field is a peripheral that allows physical collectible cards from trading card games interact with a digital mobile game. Project Field basically consists of a special pad you place special trading cards onto, and they interact with a game running on a mobile device.
Think of it as a sort of Amiibo type of peripheral, only for collectible card games.
This could change everything and have a ripple effort for all TCGs, including Magic the Gathering. Sony plans to pursue this endeavor and make it a reality, with one of the most popular Japanese franchises, Yo-Kai Watch, will be the first game made for Project Field.
"A new game development developed by Sony, Platform "Project FIELD" platform that blends real trading card game and smartphone application! Forward Works provides content! # ForwardWorks," reads Sony Japan's official Tweet.
"Announced the development of the "Yokai Watch" series as the first game content for "Project FIELD" produced by Forward Works! # ForwardWorks," reads another Tweet from Sony Japan.
ソニーが開発した新しいゲーム体験、リアルなトレーディングカードゲームとスマートフォンのアプリを融合させたプラットフォーム「Project FIELD」を発表!フォワードワークスがコンテンツを提供! #ForwardWorks pic.twitter.com/QynA7qVti5

— プレイステーション公式 (@PlayStation_jp) December 7, 2016
フォワードワークスが制作する「Project FIELD」向け第一弾ゲームコンテンツとして「妖怪ウォッチ」シリーズの展開を発表! #ForwardWorks pic.twitter.com/mx7mjnl6Ff

— プレイステーション公式 (@PlayStation_jp) December 7, 2016
Related Tags