Sony may have secured rights for a marketing deal with Ubisoft for Far Cry 5, and if so, we could see PS4 get exclusive content.
Sony has scooped up marketing deals for a swath of high-profile multi-platform games including Red Dead Redemption 2 and Destiny 2. It appears Far Cry 5 could be another triple-A game pulled over to the PS4's sphere of influence, meaning E3 2017 might be a massacre in terms of showcased third-party games. However, Ubisoft's deal for Far Cry 5 may only be for Europe.
Today Ubisoft officially released multiple teaser trailers for Far Cry 5, confirming the game is set in modern-day Montana. Interestingly enough, three out of the four released Far Cry 5 trailers aren't available in the United States...but that hasn't stopped uploaders from capturing and re-uploading them. Far Cry 5's official European trailers clearly show PS4 and PS4 Pro as the available platforms, but the single trailer released in North America doesn't list any platforms.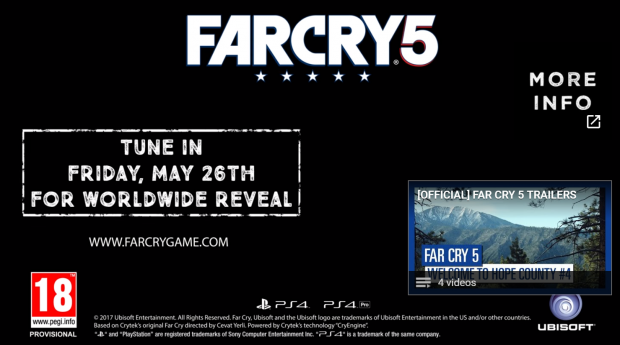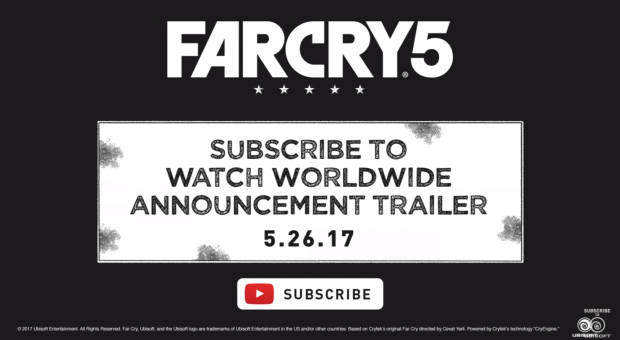 (EU video on the left, NA video on the right)
Furthermore, Sony's European YouTube channel uploaded the Far Cry 5 trailers. The official Xbox channel has no mention of Far Cry 5 whatsoever. This strongly indicates Sony has secured marketing rights for Far Cry 5--at least in Europe--and the platform will have exclusive content.
The US Far Cry 5 website lists PS4, Xbox One and PC as available platforms.
Far Cry 4 had PS4 exclusive content when it released in 2014. The content was a unique co-op demo called Keys to Kyrat that allowed players to invite their PlayStation Network friends to jump in and play the game co-operative style.
Sony has dominated marketing deals with major labels and third-party triple-A games in the past, and this trend will assuredly continue for its big E3 2017 showcase.
Microsoft will bring the raw console horsepower with its new native 4K-ready Project Scorpio console, and it's rumored that Ubisoft has signed with Xbox to promote the new Assassin's Creed game, plus we'll also see Middle-earth Shadow of War showcased in native 4K with HDR.
But from what we're seeing so far, Sony has put much more effort into courting third-party games-makers than Microsoft has, despite the fact that the latter company is releasing a brand new system this holiday season.
Despite Sony dominating console sales charts and controlling the third-party presence, Microsoft's Xbox division is incredibly lucrative and shows no signs of slowing down.
The Xbox branch has proper social monetization and a key cross-platform ecosystem that Sony lacks, and is raking in tons of revenue via its livestreaming Beam platform.
It'll be interesting to see how Microsoft counters Sony's big razzle dazzle show, but in reality the games-maker doesn't have to do much of anything to facilitate a proper opposition: the Xbox branch is firing on all cylinders and is still massively profitable. In fact, Xbox LIVE earned $1 billion in monetization in a single quarter.