New Assassin's Creed: next-gen engine, leaked screenshot
Rumor: New Assassin's Creed: Origins built with next-gen Anvil engine, screenshot leaked, seamless transitions.

Published Tue, May 9 2017 10:18 AM CDT
|
Updated Tue, Nov 3 2020 11:55 AM CST
The rumor mill is buzzing around Ubisoft's new ancient Egypt-based Assassin's Creed game, and now a purported leaked screenshot of the massive new game has surfaced.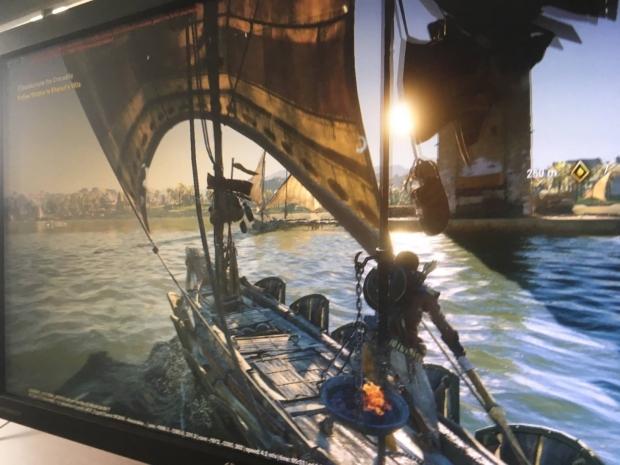 Two days ago we reported that Assassin's Creed: Origins, Ubisoft's reported new game in the landmark series formally known as Assassin's Creed: Empire, might take place in Hellenistic Egypt. Rumor has it that the game will be a massive open-world endeavor with staggering freedom that allows players to sail across the Mediterranean from Egypt to Greece--complete with naval battles, cyclopean cities and world wonders, and much more. Now a possible source on Reddit has released what could be a screenshot from Assassin's Creed: Origins.
The purported source goes on to say that the bulk of Black Flag's dev team at Ubisoft Montreal worked on AC: Origins, and that the game is built within the company's new high-end next-gen Anvil Engine to allow a new dimension of seamless travel and exploration, not unlike Zelda: Breath of the Wild's living, breathing world.
The source corroborates the original 4Chan leaks, which said AC: Origins is built from scratch without any recycled assets.
Assassin's Creed: Origins should be the biggest game Ubisoft has released to date, and is expected to dwarf previous Assassin's Creed games in terms of landmass. In fact, we've heard that AC: Origins could be three times as big as Black Flag's Caribbean region.
According to the source, Ubisoft is sending out promotional materials now and will unveil the game formally at E3 2017.
Related Tags