A new installment of the Thief franchise is in development to coincide with an upcoming movie adaptation, production company Straight Up Films affirms.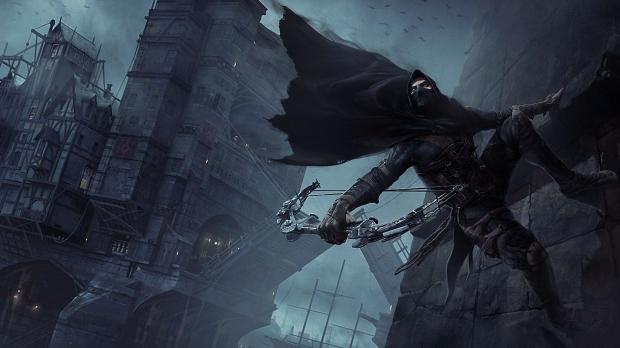 Following the success of Ubisoft's Assassin's Creed movie, Square Enix plans to adapt its popular long-running dark action Thief franchise into a feature-length film. Los Angeles-based production company Straight Up Films will make the Thief movie, and recently said that a new Thief game is currently in development for launch alongside the film's theatrical release.
"Originally released in 1998 by Eidos Interactive (Deus Ex) and distributed by Square Enix (Tomb Raider, Final Fantasy), the Thief series has spanned over fifteen years and four sequels continually retaining loyal audiences and attracting new fans with each iteration. Widely considered to be one of the greatest games ever created, a fifth sequel is currently in development to be released in step with this motion picture adaptation," Straight Up Films said in a recent website post.
This announcement is quite suspect, especially given Square Enix's recent business decisions. The publisher is actively shifting focus away from key franchises and culling studios to make itself more lean and profitable.
Yesterday Square Enix announced a split from its wholly-owned subsidiary development studio IO Interactive, the studio behind the long-running Hitman games. This decision leaves the Hitman series' future in limbo. Square Enix has also put the Deus Ex franchise on hiatus due to soft sales of 2016's Deus Ex: Mankind Divided.
The timeline doesn't add up
Furthermore, Eidos Montreal, the studio that developed games in the Thief franchise, is currently working on two big-budget projects: its own Guardians of the Galaxy game for Marvel, and collaborating on Crystal Dynamic's new Avengers game.
Square Enix recently signed a massive multi-year deal with Marvel to make triple-A games based on Marvel IPs and franchises.
Based on what we know about Square Enix's newfound focus and how Eidos Montreal is quite busy with its current project slate, a new Thief game doesn't sound right.
2014's Thief reboot performed well in terms of cross-platform sales, with Square Enix affirming Thief's sales were "strong," so there's a possibility the publisher may tap the series for a new game.
It's possible Square Enix could outsource Thief V's development, but the publisher's release timeline is already clustered enough. Square Enix is focusing on Marvel games alongside its Final Fantasy and Kingdom Hearts projects, I don't think a new Thief game is very likely.
Let's take a quick look at Square Enix's games timeline for FY2018 and beyond.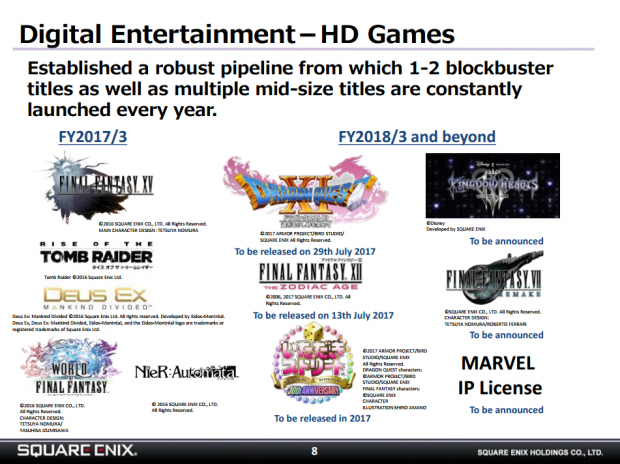 As you can see, Square Enix's basic plan revolves around releasing 1-2 big-budget games a year, followed by a slew of strategically-released titles to fill in the games, including HD remasters like Final Fantasy XII: The Zodiac Age and a litany of mobile games. For the current fiscal year timeline, FY2018, Square Enix will release FF12: The Zodiac Age and Dragon Quest XI, alongside a special 30th anniversary title.
We've already reported that Final Fantasy VII: Remaster and Kingdom Hearts III will likely be Square Enix's big games for FY2019 (April 1, 2018 thru March 31, 2019), and the publisher's Marvel games will carry it into FY2020 and beyond (April 1, 2019 thru March 31, 2020).
Square Enix's latest Fiscal Year 2017 earnings report has absolutely no mention of a new Thief game, and nothing in the data suggests another big-budget Thief title is in the works.
If Thief does get a new game, odds are it'll be a mobile or browser-based experience rather than a substantial triple-A title, especially since Square Enix is pushing forward into the dedicated digital market across these platforms.
We're absolutely not saying a new Thief game isn't possible, but based on everything I've outlined here, it's not very likely.