Deus Ex franchise is now in limbo
Eidos Montreal has pressed pause on Deus Ex as it works on new Marvel projects like Avengers and Guardians of the Galaxy.

Published Mon, Jan 30 2017 9:34 AM CST
|
Updated Tue, Nov 3 2020 11:56 AM CST
Deus Ex developer Eidos Montreal has apparently put Adam Jensen's dystopic future on hold so it can work on new high-profile projects with Marvel.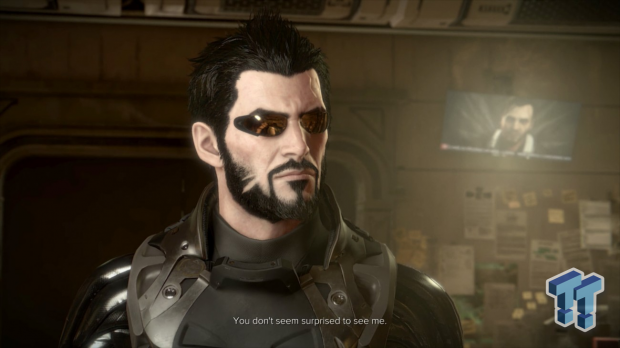 Square Enix recently signed a multi-year deal with Marvel for a batch of games based on key characters and series in the Marvel comic-book universe, and the publisher has enlisted its key development studios to create these games.
This partnership is not unlike Disney giving EA exclusive access to make Star Wars games, and EA responded in kind by enlisting Respawn, Visceral, DICE, EA Motive and more to the cause. The first game in the Square Enix-Marvel alliance will be an all-original new Avengers game.
While Eidos Montreal won't be helming development of the new Avengers game--it will instead co-develop alongside Tomb Raider dev Crystal Dynamics--the Deus Ex devs are hard at work on the new Tomb Raider game, which is entitled Shadow of the Tomb Raider .
After Tomb Raider is wrapped up, Eidos Montreal will focus on a Guardians of the Galaxy game, Eurogamer reports.
How soon until we see another Deus Ex game almost certainly depends how long the partnership lasts. Square Enix will keep rotating the development of Marvel games throughout the agreement's timeframe as its key first-party studios work on hit games and franchises like Final Fantasy and Kingdom Hearts.
But why would Square Enix put Deus Ex on the back-burner?
Despite being an amazing game (read our review here), Deus Ex: Mankind Divided apparently didn't hit the sales figures the publisher was aiming for. This coupled with the new Marvel alliance likely had key execs backpedaling on the sci-fi franchise's future in favor of safe-bets like the Marvel entertainment juggernaut.
What's more is that Mankind Divided is by no means a complete game, and was obviously designed to be complimented by a finishing third chapter. Despite the plot holes and all of the unused plans that were scrapped from Mankind Divided to be added to the third game, it could be some time before we see Jensen return.
I've included a copy of the Marvel x Square Enix partnership press release below:
Marvel Entertainment and SQUARE ENIX today announced a new multi-year, multi-game licensing agreement to develop and publish original games based on beloved Marvel Super Heroes, beginning with The Avengers.

Original Blockbuster Games in Development at Award-Winning Square Enix Studios Crystal Dynamics and Eidos-Montreal

This newly established partnership pairs the creative minds at Marvel and Square Enix for one of the most powerful alliances in interactive entertainment. The first blockbuster game is being crafted by Crystal Dynamics, developers of the award winning TOMB RAIDER series, in collaboration with Eidos-Montreal, the home of the critically acclaimed and award-winning DEUS EX game series.

The Avengers project is being designed for gamers worldwide and will be packed with all the characters, environments, and iconic moments that have thrilled longtime fans of the franchise. Featuring a completely original story, it will introduce a universe gamers can play in for years to come. More details on The Avengers project and other games will be announced in 2018.

The world premiere teaser trailer of The Avengers project can be seen here.

"By partnering with Crystal Dynamics and Eidos-Montreal, we are now working with two of the industry's most talented and respected game development studios to bring Marvel stories to life in ways our fans have never experienced," said Jay Ong, Senior Vice President, Games & Innovation, Marvel Entertainment.

"The Avengers project is a perfect example of how Marvel is making games a key part of the landscape for Marvel storytelling, alongside comics, television and film. We can only do this by matching our greatest Super Heroes with the world's top developers, such as the creative minds at Square Enix."

"Marvel's diverse, innovative universe has created millions of longtime fans, including all of us," said Phil Rogers, CEO, Square Enix Americas and Europe.

"It's exciting to bring together Square Enix's award-winning development studios with Marvel's extraordinary storytellers to establish a new entertainment powerhouse. This collaboration of passion and talent will craft epic, imaginative experiences allowing gamers to live out their Super Hero dreams like never before."

Crystal Dynamics is the studio behind the critically acclaimed and world-famous TOMB RAIDER franchise, which has sold over 48 million copies worldwide. With over 30 video game titles released and hundreds of awards, the heroine Lara Croft has been a cultural icon for 20 years and has made an indelible mark on virtually every facet of entertainment. The most recent release, Rise of the Tomb Raider, has received over 100 awards and nominations and is one of the highest rated games on next generation systems.

Eidos-Montreal is the award-winning studio behind the relaunch of the DEUS EX series. In 2011, the studio made its mark with the critically acclaimed Deus Ex: Human Revolutione. Its sequel, Deus Ex: Mankind Divided, was released in 2016 and received more than 100 awards and nominations.
Related Tags