Blizzard shifts away from full games to content updates
Huge Overwatch, World of Warcraft microtransaction earnings dissuade Blizzard from releasing a full game in 2017, will issue content updates instead.

Published Fri, May 5 2017 12:20 PM CDT
|
Updated Tue, Nov 3 2020 11:55 AM CST
As Blizzard's revenues soar from engagement and in-game purchases across its entire portfolio, the company is quite comfortable just releasing strategic content updates instead of new games. In fact, the company won't release a new full game in 2017, but will offset this with a ton of new content updates across all of its current games.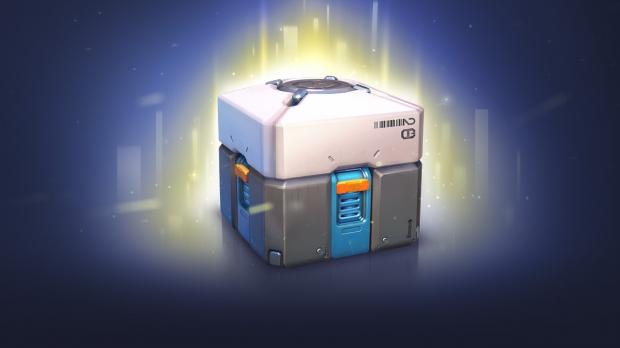 Blizzard president and co-founder Mike Morhaime confirms the company's shift: "This year for Blizzard is a different kind of year for us, a year that isn't necessarily built on full game launches but content title updates for our games," Morhaime said in a recent Activision earnings call. "This quarter we have meaningful new updates for every franchise in our portfolio. In fact, we set a new DAU record last quarter thanks to title updates."
This push towards updates instead of costly full game releases makes a lot of sense, and is the current trajectory for many games-makers including EA and Ubisoft. While EA and Ubisoft indeed make new games, they rely heavily on tactical updates and seasonal events for earnings, especially in titles like Battlefront, Destiny, The Division and Rainbow Six: Siege. Microtransactions, online engagement via multiplayer, and the potential for eSports are the main building blocks for AAA games these days.
Blizzard can simply launch new content updates and expansions for its games rather than having to embark on an expensive development pipeline and marketing new games. While we know Blizzard is making a new Diablo game as well as a mysterious new FPS, those games are obviously far off, and Blizzard will use the revenue it earns from continued engagement in huge breadwinners like Overwatch to invest into those projects.
Morhaime goes on to assure gamers that its entire portfolio--from Heroes of the Storm to Overwatch and Diablo--will get a huge smattering of new content.
"This reflects our transition from focusing primarily on full game releases to providing a consistent stream of new content for our players. Even without any full game launches this year, we're continuing to add to the depth of our games to serve a very highly engaged community with more content across our portfolio than we've ever had before."
So why is Blizzard changing gears? They're simply following the data.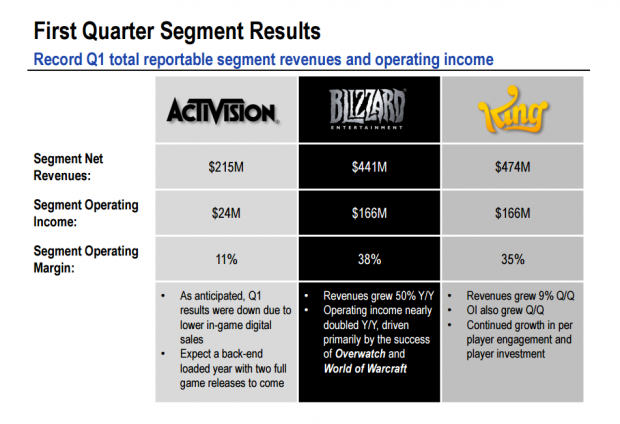 For Q1 2017, Blizzard earning more than double net revenue than Activision: out of the company's total $1.72 billion in net revenue, Blizzard games raked in a huge $441 million in net revenue versus Activision's $215 million. The lion's share of those earnings were no-doubt from consistent in-game purchases.
Right on queue, Blizzard confirmed its revenue from "in-game content" (aka microtransactions) grew by 25% year-over-year. World of Warcraft and Overwatch led the pack in microtransaction earnings.
So why release a new game that might be popular and earn money? Why not just release new content for games that players already love, and mix up the current franchises that are already popular? That basic sentiment, along with a very distinct formula, is the real heart of this decision.
Here's the basic formula that major publishers like EA, Ubisoft, and Activision are following:

Strategically-timed updates/expansions are issued out to raise engagement, which is a metric to gauge growth via Daily Active Users (DAU) and Monthly Active Users (MAU).

As engagement rises due to word of mouth, press news/streaming, organic notifications, and especially eSports interactions (spectating pro players, etc), gamers are more likely to purchase in-game items, such as loot boxes in Overwatch, tokens and mounts in World of Warcraft, and card packs in Hearthstone.

So engagement has an integral affect on in-game revenues via microtransactions, and timed updates have a key effect on engagement. Activision plans to double-down on its eSports integration with the Overwatch League and smash engagement to greater heights.
But here's the real sales magic of this formula.
Since everything is interconnected and circular, devs and publishers can typically trigger engagement boosts by releasing updates and content when the playercount dips.
Furthermore, if players are unhappy, publishers will roll out fixes and tweaks to essentially make the game feel "new" again--but sometimes this backs the publisher into a corner, like Ubisoft when it had to kow-tow to the recent For Honor boycott.
The bottom line here is this: Blizzard's new move isn't a trend, but the course of AAA gaming in 2017 and beyond.
Related Tags