GDC 2017 -Acer is one of the many OEMS who partnered with Microsoft to make cheap and accessible VR/AR headsets, and now the company has unveiled the fruits of its labor.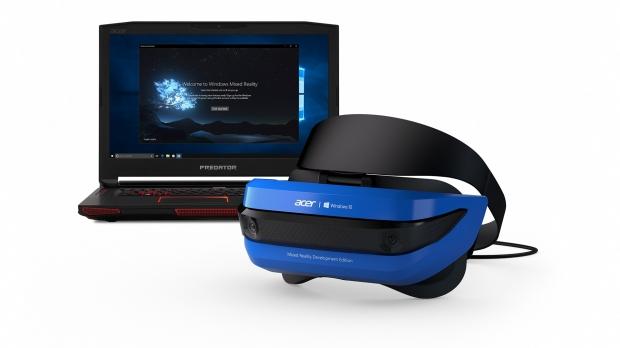 Acer's new Mixed Reality headset is now ready for developer testing, and the company has revealed the specs of the HMD:
Two high-resolution liquid crystal displays at 1440 x 1440

Display refresh rate up to 90 Hz (native)

Built-in audio out and microphone support through 3.5mm jack

Single cable with HDMI 2.0 (display) and USB 3.0 (data) for connectivity
"We are pleased to be working with Microsoft to deliver these first-ever Windows Mixed Reality development kits, to help developers realize the potential of the Windows Mixed Reality platform, and to further enrich the experience when Acer's Windows Mixed Reality headsets for consumers and commercial customers ship later this year," an Acer spokesperson told us.
Microsoft will begin rolling out developer kits of Acer's new Mixed Reality headset later this month, alongside Windows 10 preview build access and the Windows Mixed Reality SDK. It looks like ID@Xbox game developers will get first crack at making games and apps on the Mixed Reality platform--but remember MR is much more than just gaming and offers a new gateway for traditional app and entertainment experiences alike.
Acer's Mixed Reality headset may not just locked to Windows 10 PCs: Microsoft announced that it will fold Xbox consoles--including Xbox One and its monster Project Scorpio--into the Mixed Reality platform. So that means Acer's headset may hook up to consoles to provide AR experiences, too. Sadly this won't happen until 2018 at the earliest.
Retail builds of Acer's MR headset may not be available for some time, but one thing's for sure: Microsoft is serious about a wide-spectrum approach to the future of Windows and Xbox.