Project Scorpio mentioned at AMD's Vega CES 2017 booth
Is AMD teasing that Project Scorpio will use its all-new high-end Ryzen CPU and Vega GPU technology, or is it just a coincidence?

Published Fri, Jan 6 2017 9:14 AM CST
|
Updated Tue, Nov 3 2020 11:57 AM CST
CES 2017 - Mention of Project Scorpio was seen at AMD's Vega and Zen CES 2017 booth...is the graphics giant teasing an answer to our predictions?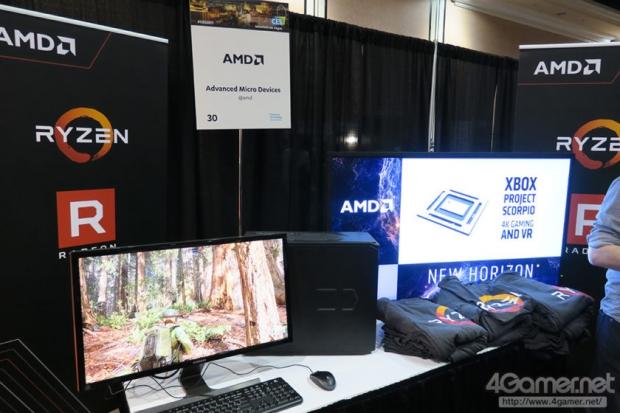 Following the announcement of its impressive new Ryzen CPUs, AMD just announced its new high-performance, enthusiast-grade Vega GPU architecture at CES 2017, and is currently holding a booth to showcase this new tech to the public. One thing we didn't expect to see at the booth was mention of Microsoft's new "monster" 4K-ready Project Scorpio console.
Japanese games site 4Gamer snapped an interesting picture that mentions Project Scorpio at AMD's CES 2017 booth. Despite what you think, this isn't a 100% confirmation; AMD was showing a stream of its New Horizons Zen CPU announcement video at the booth, and AMD CEO and President Dr. Lisa Su directly discussed Project Scorpio at the event (you can find mention of that here and in the video embedded below). So this could just be a coincidence and nothing to get crazily excited over, or AMD might be teasing what I've been saying all along: Project Scorpio is built using AMD's latest and greatest technology.
Read Also: Everything you need to know about AMD's new Vega GPU architecture
Read Also: Everything you need to know about AMD's new Ryzen CPU architecture
Now AMD has already confirmed it's working with Microsoft on Project Scorpio, and that AMD will power the hardware, but there's been lots of speculation on which processors the system will use.
Here at TweakTown we've been pretty vociferous when it comes to Project Scorpio, and I've made predictions that the system will leverage scaled versions of AMD's latest Zen (Ryzen) CPU and high-performance Vega GPU architectures to enable native 4K gaming befit of an enthusiast system.
In fact, AMD is currently experimenting with its new Raven Ridge APUs, which integrate a Ryzen CPU and Vega GPU on a single chip.
I've broken down my predictions in this article, which explains why the system will be a premium console and not a cheap cash-grab like Sony's PlayStation 4 Pro that uses outdated hardware with a brand new GPU.
Project Scorpio confirmed specs:
6 TFLOPs of performance

320GB per second memory bandwith

8 CPU Cores
According to Microsoft, Project Scorpio will rock "the most powerful graphics processor that's ever been put into a games console" to deliver high-end performance at "the highest res at the best frame rates without no compromises." Essentially the games-maker wants to meld the worlds of enthusiast PC gaming and console gaming together, using Windows 10 as the software glue and AMD's next-generation GPU and CPU hardware glue to hold it all together.
"Here we are, three years into the generation, and we also have gamers saying, 'Hey, I want the most power, I want the best experience possible,' and that's what Project Scorpio is all about," Microsoft's Senior Global Product Marketing Director Aaron Greenberg told IGN in a recent interview.

"[Project Scorpio] will be the most powerful console ever made. It will deliver 4K gaming to people in the living room on their TVs that they have not experienced before," Greenberg affirmed.

"So today, a lot of people who are spending thousands of dollars on high-end PCs are able to experience 4K gaming, sure, but to be able to bring that at scale to the living room, to the console market, is what Scorpio is all about."
Project Scorpio will launch Holiday 2017, and check below for everything we know about the system so far.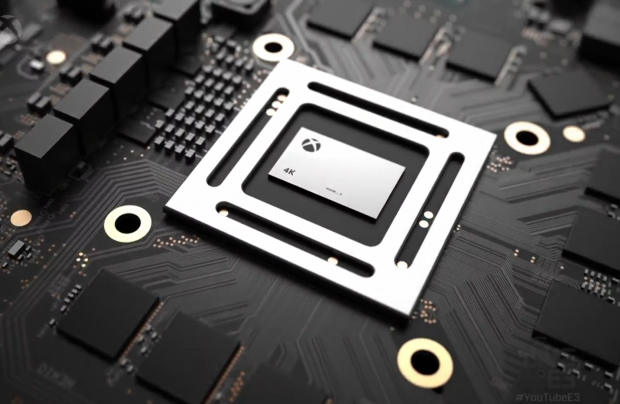 Everything we know so far about Project Scorpio:
Related Tags