Modders are busily porting over Skyrim: Special Edition mods to consoles and PC, with over 100 mods and counting already available.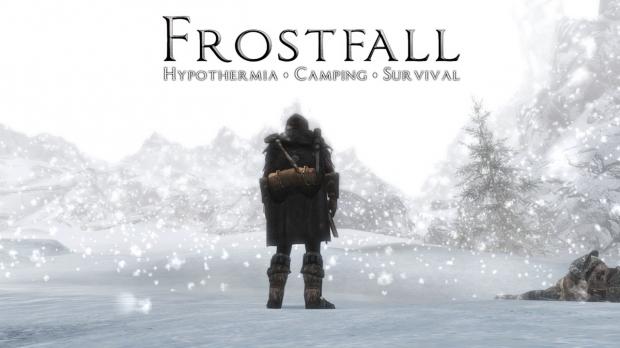 Bethesda has released the Skyrim: Special Edition Creation Kit to beta testers, and modders are porting over their content to the new Bethesda.net Skyrim remaster mod interface in preparation for the game's release.
Right now there are a total of 123 Skyrim: Special Edition mods available for all platforms, with 64 mods on Xbox One alone. One of the best Skyrim survival mods of all time, Frostfall, has also been uploaded to Xbox One, along with the excellent Open Cities. Both will be available when the game releases.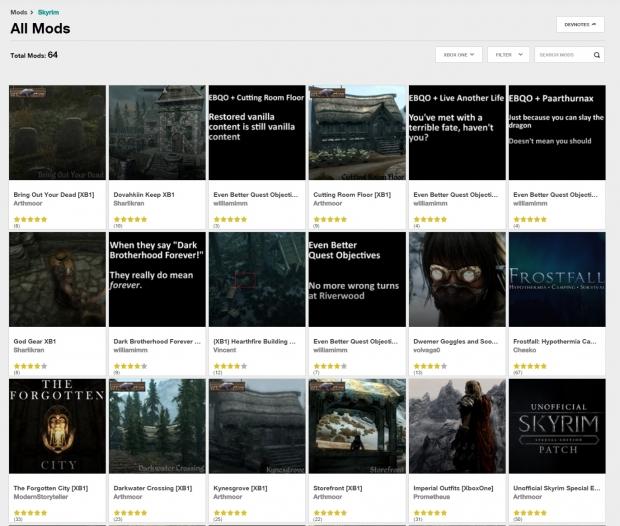 PS4 owners are getting shafted in the mods department, and there's only 9 mods available right now. This is likely due to the fact that PS4 mods are limited to just 1GB in size, whereas the Xbox One supports up to 5GB-sized mods.
Skyrim mods on PS4 are also limited to using default assets and aren't compatible with new custom-created assets; this means PS4 owners won't get new weapons, armors, building textures, etc.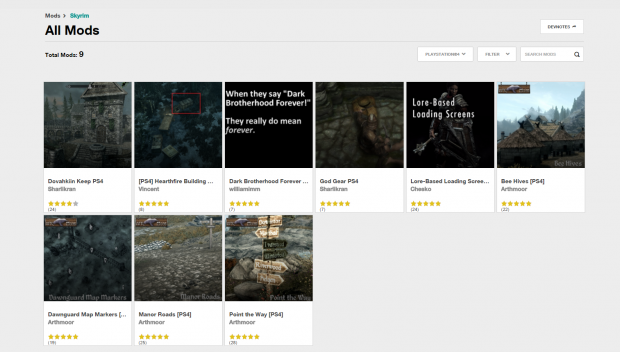 Read Also: How old mod compatibility works in new Skyrim: Special Edition
We're not exactly sure how easy it is to port over old 32-bit Skyrim mods to the new 64-bit Skyrim: Special Edition Creation Kit, and we've reached out to the modding community for details. We'll be sure to update you if we hear something back, but it shouldn't be too hard. It's likely just a simple case of running the old mod through the new CK editor and saving, but it might be a bit more complicated.
Considering Frostfall, which started out as a 32-bit Skyrim PC mod, is being brought to the Xbox One, the process might be quite simple. I hope it is, as that means more awesome PC mods could make the jump.

The main benefit of the new Skyrim: Special Edition Creation Kit is that it's built in 64-bit, meaning mods are no longer limited in terms of RAM usage. Modders can now flex PC builds with 8GB, 12GB, 16GB or even 32GB configurations and not have to worry about those pesky limitations ruining their creations.
In short, we should see some truly epic mod creations show up on PC. Consoles are a bit iffy, and Xbox One Fallout 4 mods have surprised me in terms of content, but don't expect to see too many crazy mods show up on the Xbox One mod UI.
As for PS4...well...that 1GB limit is going to hurt modders pretty badly, and it could seriously put a hamper on mod accessibility. As a result, I don't think we'll see too many amazing mods show up on PS4 unless modders are willing to scale down their creations and make custom ports for the platform.
Read Also: Fallout 4 console mod theft threatens to destroy modding community
Despite the amazing ability to create all new experiences with Skyrim mods, console mod support also has its downfalls. When Fallout 4 got mod support on Xbox One, tons of rampant thievery broke out, causing many content creators to make their mods private or require PC-only software like Fallout Script Extender (FOSE) and restrict console usage.
This epidemic fractured the modding community, and the introduction of Skyrim mods may only add to the burden and further push away mod creators.
Skyrim: Special Edition releases on October 28, 2016 for PS4, Xbox One, and PC. If you already own Skyrim: Legendary Edition or Skyrim and all of its DLC on PC, you get a free copy of the game when it releases.