Overwatch PC patch goes live, introduces Ana, overhauls balance, more
Major Overwatch patch launches with tons of buffs and nerfs, 21:9 support, new hero, more.
Published Tue, Jul 19 2016 1:35 PM CDT
|
Updated Tue, Nov 3 2020 11:59 AM CST
The first major patch for Overwatch since its launch has gone live, and it's a doozy. Apart from adding support-sniper Ana Amari (our impressions here), it includes a ton of balance and feature changes that are sure to shake things up.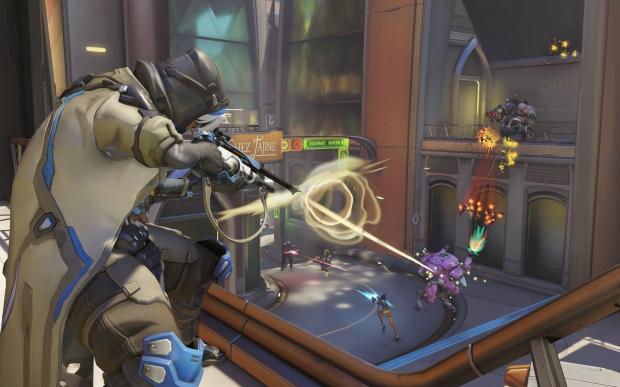 First up: Overtime stalling is now going to be pretty much non-existent. If a given Overtime exceeds 20 seconds, the fuse will burn more quickly, preventing those sometimes several minute long late games.
Second: one hero limit is enforced for Competitive Play (you'll still be able to do double Pharah or whatever in Quick Play as much as you want), which will drastically affect the meta. Among the popular strategies that will no longer be available: double Reaper to deal with tanks, double Lucio to take advantage of constant AOE speed and AOE healing, and double Winston, double Tracer, and double Lucio in overtime to cheese objectives.
The hero limit means players will have to think more about how different heroes synergize if they want a 'doubling' effect (for example: any combination of D.Va, Winston, and Zarya will be effective for Control maps as opposed to the previous double Winston), and cheesing will be less prominent, so overall gameplay should be improved and more interesting.
Balance changes are the other big ticket. D.Va receives a significant design overhaul: her Matrix now offers more control in that it can be used as little or as much as you want (barring cooldowns), and her Ultimate charges faster, goes off quicker, and doesn't damage her. Having played it in the Public Test Region (PTR), let's just say it will result in a lot more kills. It would not be surprising to see these changes result in D.Va becoming a very popular tank pick, even at high levels of play.
Mercy has long been an oppressive, dominant hero competitively and to a lesser extent, casually, largely thanks to her team-reviving Ultimate. Well, that gets a significant nerf with a 30% charge cost increase, so it's possible she'll no longer be an automatic pick. She does get some minor buffs to offset this change however: her movement is no longer restricted when she pops the Ultimate, and Guardian Angel resets when Resurrrect is used, so that 'rush in, pop Ult, die' thing won't happen as much anymore.
Then there's Zenyatta, who sees a 50 shield buff, majorly increasing his survivability which has been an issue for awhile now. He also sees his projectile speed for both Orbs increase by a factor of four, and his Ultimate movement speed doubled and the healing increase from 200 to 300 (meaning it can counter most if not all opposing Ultimates now). As well, his damage is tweaked: both primary and secondary fire do 40 damage (as opposed to the previous 45/35), offering more incentive to use the latter.
Lastly for balance changes, McCree gets a range buff that should mean he'll come back into the meta prominently again, and be a force for Pharah to deal with.
21:9 support is added, too, along with a ton of small changes and tweaks. For the full details, hit the source; you can download the patch now on Battle.net. Console players: we'll let you know when the patch goes live for you.
Related Tags