E3 2016 - Ubisoft has an obsession with towers. The studio uses tall, sky-piercing towers as a means to unlock new portions of in-game maps--if you've played any (god forbid all) Far Cry or Assassin's Creed game, you're all-too-familiar with this mechanic. Luckily our tower-climbing days are over--in Watch Dogs 2, at least.
Watch Dogs 2 is Ubisoft's big-hitter for 2016, so it can't afford to make the same mistakes. The game has to not only look and feel new, it has to be new, and that means a fresh approach. So far the devs are done everything in their power to distance Watch Dogs 2 as far as possible from the original--other than the name, open-world setting, and the basic hacktvist premise, the two share almost nothing in common. Apart from all of its other massive improvements, Watch Dogs 2 won't be bound to the traditional stale "climb a tower and unlock areas" mechanic.
"There are no towers. You just explore the world. It's not a game where you open your map and everything's there," Watch Dogs creative Director Jonathan Morin told Eurogamer at E3. But if the entire world isn't unlocked all at once, and there's no towers, how does the map progression work? Ubisoft actually has a rather ingenious plan for this.
In Watch Dogs 2, your progression is "organically" tied to DedSec followers. The more you explore the world, the more DedSec members you recruit, and the more connections you make. "Players start with a few followers in DedSec but pretty soon you realize you're going to need more if you want to pull off big operations. So you start free-roaming. Every time you get followers, it's like you're unlocking the DedSec hivemind. You're also unlocking new knowledge, new operations, new co-op missions. And then organically you hit those end-game milestones."
As you make more connections and build up your rebellious hacktivist movement, you earn more reputation, and unlock more missions and areas. So instead of a straight line, player's paths are kind of a nebulous free-roaming fog.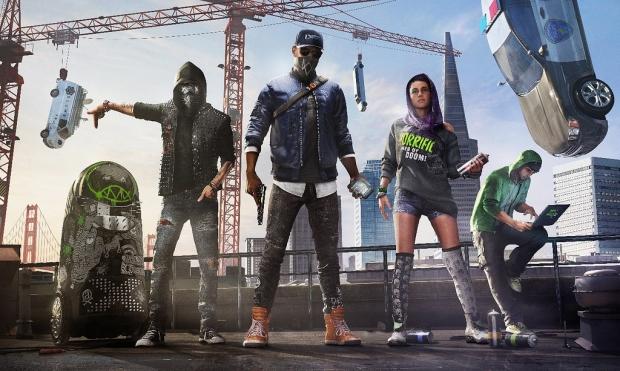 The hacker collective DedSec has gotten a facelift. While it's rather incredible world-breaking skills remain intact, the somber, serious tone has been traded out for a rebellious, devil-may-care punkish attitude. Watch Dogs 2 is very much the traditional "stick it to the man" adventure that's full of youth and vigor.
There's a very homebrew type of feel the game--as demonstrated by the general makeshift gadgets and 3D-printed guns--that permeates through the "maker" culture and ties in Anonymous with a kind of unruly, riotous spirit. There's also a fair bit of Robin Hood's "steal from the rich, give to the poor" vibe involved, mixed with guerrilla warfare's "topple the power" feel.
I for one am looking forward to Watch Dogs 2. It has all the right trappings that the franchise desperately needed, and the game looks like just enormous GTA-style fun. Essentially we'll all be kids in a playground, hacking "every car, every person, and every connected object" in San Francisco.
Watch Dogs 2 is slated to release on November 15, 2016 on PC, PS4 and Xbox One.