NVIDIA GeForce GTX 1080 cards are above $699 right now, supply issues?
Where are all the GeForce GTX 1080 cards? NVIDIA is selling out of them fast, and retailers are rubbing their hands together with gle.
Published
1 minute & 47 seconds read time
Over the past few days, many of my friends (inside, and outside of the industry) have been asking me "where are all the GeForce GTX 1080s?" and I haven't taken much notice, until now. One of my friends has been eyeing off the awesome MSI GeForce GTX 1080 Gaming X 8G, simply because he couldn't find one in retail, or online anywhere in Australia.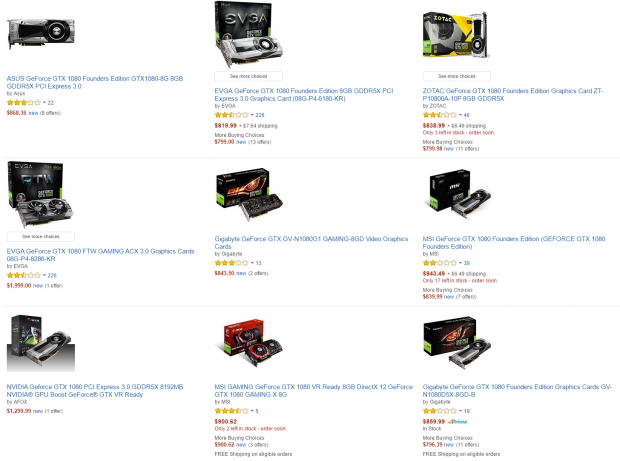 Well, the Australian market for enthusiast level hardware at launch is always... bad, very bad. We get a handful (less than 10) on a good launch, and I experienced this first hand for 10 years working IT retail selling these exact cards. So I decided to check Amazon, and lo and behold - the price gouging is HUGE. The big surprise is is the custom card from EVGA in the form of the EVGA GeForce GTX 1080 FTW GAMING ACX 3.0 card, which is freakin' $1999 right now... this is absolute insanity.
Remember that NVIDIA unveiled the GeForce GTX 1080 Founders Edition for $699, but there is a huge premium on the cards right now - and this could be one of two reasons. The first, is that NVIDIA hasn't got enough supply of their 16nm FinFET-based GP104, and that's why the GTX 1080 is so expensive because retailers are wanting as much money as they can, while they can, as the stock levels are low. Second, it could be retailers doing their usual and price gouging - but this price gouging is on another level right now - especially at $1999 for a single GTX 1080 from EVGA.
As you can see from the image from Amazon, even the EVGA GeForce GTX 1080 Founders Edition is $819, while ZOTAC's GeForce GTX 1080 Founders Edition is $838. Then we get into the custom cards, with GIGABYTE's GeForce GTX 1080 G1 Gaming at $843 right now, and the MSI GeForce GTX 1080 Gaming X 8G, that we just reviewed by the way and called it the first silent GTX 1080, priced at $900 on the dot.
But do you know who this benefits directly? AMD. AMD are weeks away from launching their new Radeon RX 480 which will start at $199 for the 4GB model, and $229 for the 8GB model with AIB partner cards priced higher. Sure the performance isn't the same as the GTX 1080, but it does get relatively close in 1080/1440p and VR gaming, which might have people buying two of them in CrossFire, versus a single GTX 1080.
Related Tags