We've already seen leaked benchmarks on AMD's Radeon RX 480 where it beat the GeForce GTX 980, but now we have some more information to share - GPU clock speeds, temperature under load, and even the power consumption of AMD's new Polaris-based video card. AMD just unveiled the new RX 470 and RX 460 cards during E3, with pricing to follow on those cards shortly.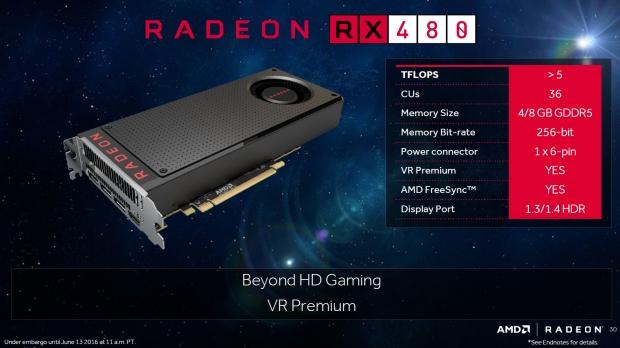 The Radeon RX 480 will arrive in both 4GB and 8GB variants, with the RX 480 4GB version costing $199 - and we can exclusively reveal the 8GB version will cost $229 according to our industry insiders. The partner cards will cost more obviously, but they'll have better coolers and higher clock speeds. Both of the RX 480 offerings will feature a base clock speed of 1080MHz, while it will boost up to around 1266MHz out of the box.
Under typical gaming loads, the RX 480 reportedly consumes around 100W of power, hitting 60C on an open-air test bench. The reference design incldues a single 6-pin PCIe power connector, and together with the PCIe 3.0 x16 port consumes up to 150W of power. Custom cards will include an additional PCIe power connector, while the "beast mode" AIB cards will feature a single 6-pin or single 8-pin depending on the card. But how is the performance?
In some leaked benchmarks that WCCFTech has gotten their hands-on, the R9 480 8GB at 1266MHz beats the R9 Nano, which is hugely impressive considering the engineering feat AMD achieved with the R9 Nano. Remember that the R9 Nano is a Fiji-powered enthusiast level card with HBM1 technology, but on the 28nm process. The RX 480 on the other hand is a next-gen 14nm FinFET-based design, with GDDR5 memory.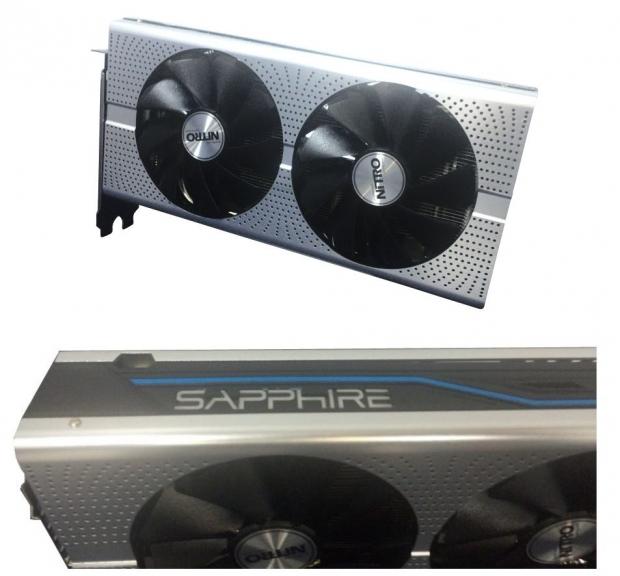 We've also seen the SAPPHIRE Radeon RX 480 Nitro, with most of our readers agreeing that it doesn't look too good at all - and more like a cheese grater, what do you think?