Computex 2016 - After revealing the $199 VR-ready Radeon RX 480 and the Summit Ridge Zen silicon at Computex, AMD revealed its latest 7th-generation Bristol Ridge and Stony Ridge APUs with massive improvements in CPU and GPU performance and power efficiency.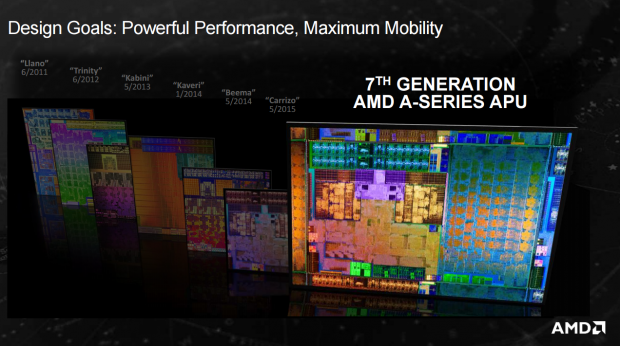 AMD's new 7th-generation APU lineup is a medley of processors separated in performance tiers across two product families: Bristol Ridge for higher-end gaming and performance, and Stony Ridge for everyday and entry-level use. The APUs range from the lower-end 2.8GHz A6-9210 to the performance-grade 3.7GHz 7th-gen FX 9830P. AMD boasts that Bristol Ridge's premiere FX chips are 56% faster than previous gens, with the entry-level A6 series 51% faster than past generations. The Bristol Ridge APUs are also beating Intel's mobile chips: According to AMD, the new FX-9800P is 50% faster than Intel's i7 6500U processor.
The lineup puts emphasis power efficiency and performance, which is exactly what users need in laptops. AMD's new 7th generation APUs leverage four Excavator cores and eight Radeon Graphics Core Next Cores, with integrated GPUs ranging from Radeon R2 to Radeon R7 graphics. The A10, A12, and FX series support performance gaming features like FreeSync and pairing up with discrete desktop video cards with Dual Graphics, whereas EyeFinity and Framerate Target Control are reserved for the top two models. The FX series also sports DirectX 12 and Vulkan with multi-adapter support.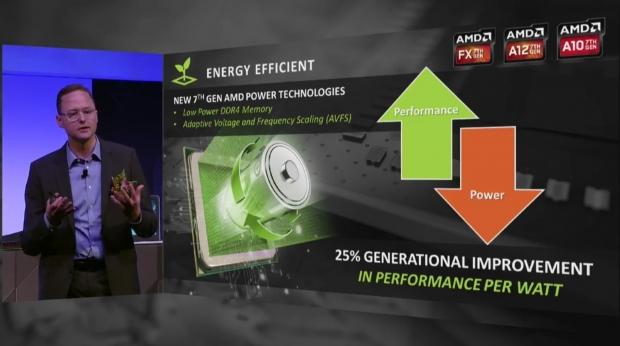 The Bristol Ridge APUs sport up to 25% perf-per-watt improvement over last-gen APUs, with the high-end FX 9800P only drawing 15W TDP despite its 8-core GCN Radeon R7 graphics and top 3.6GHz speeds. Now that the APUs use less energy, users will be able to game, work, or stream content for longer periods of time without worrying about laptop battery drain.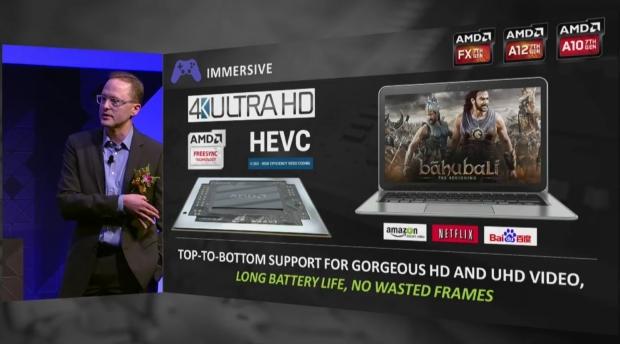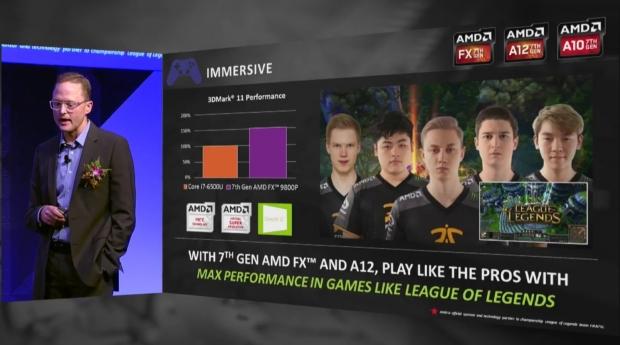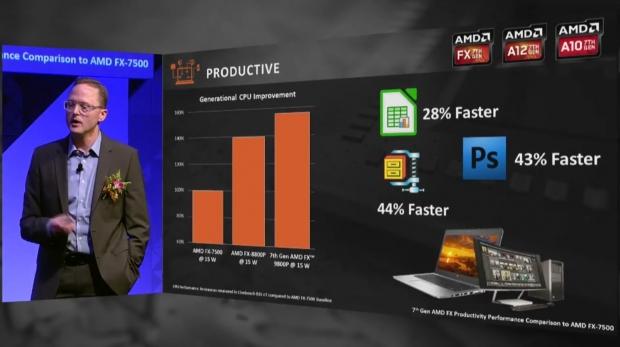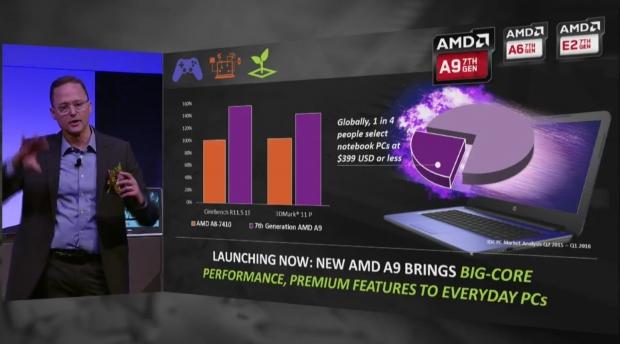 AMD has announced that the Bristol Ridge and Stony Ridge APU families are now available and promises that Zen-and-Polaris Summit Ridge APUs are on the way. Check below for full specifications of AMD's 7th-gen APU lineup, including feature support.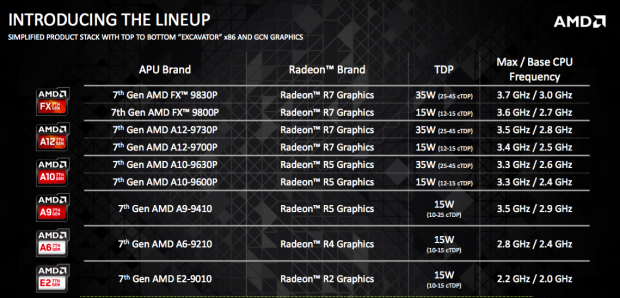 AMD 7th-Generation APU Key Features:
• Four Excavator cores
• Eight Radeon Graphics Core Next (GCN) Cores
• Support HSA compute acceleration
• High throughput multimedia accelerators
• HEVC(H.265) support
• Re-architected for low power video playback
• Integrated AMD Secure Processor
• Platform secure boot
• Integrated Southbridge
• High performance I/O connectivity
• 128 bit DDR channel supports DDR3 and DDR4
• 12 lanes of PCIe GEN3
• 3 independent display heads capable of DP, DVI, HDMI
• USB2, USB3, SATA, UART, I2S connectivity