Corsair launches Bulldog SFF chassis and Lapdog mechanical keyboards
Corsair's new Bulldog small form-factor chassis are now available, affording easy builds for living room PC gaming.
Published
3 minutes & 2 seconds read time
Corsair's new Bulldog chassis are now available, offering convenient small form-factor solutions for high-performance living room gaming. The manufacturer also revealed its new Lapdog mechanical keyboard and mouse combo
Described as "a highly ventilated, stylish compact console, created for the living room," Corsair's Bulldog case won major CES innovation awards and has ample space to fit full-length 300mm video cards for 4K gaming and VR. Corsair has teamed up with MSI to make the all-in-one liquid-cooled Hydro GFX GeForce GTX 980 Ti video card exclusively for the Bulldog. The mini-ITX chassis comes outfitted with a Hydro Series H5 SF CPU liquid cooler and a SF600 600W 80 Plus Gold power supply
Corsair has also revealed the Lapdog, a performance-grade portable mechanical keyboard designed to compliment the Bulldog. The Lapdog has three different configurations--the base board that can slot in mechanical keyboards and mice, as well as the Lapdog K65 RGB model with Cherry MX Red switches and the K70 with Cherry MX Red/Blue switches.

The Bulldog chassis is now available for $299 USD, and the complete Bulldog PC builds are coming in Q3 2016. The Lapdog is priced at $119 for the base board, and $249 for the K65 RGB and K70 MX Red and Blue variants.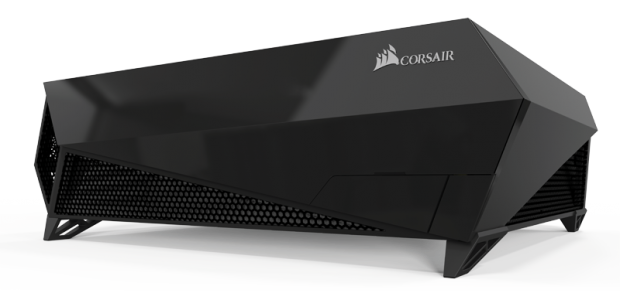 Check below for full details, specifications, and hardware compatibility lists of Corsair's new Bulldog chassis.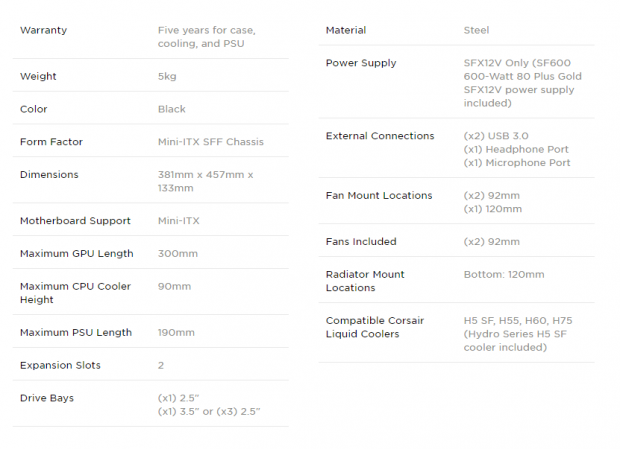 Bulldog Chassis Contents and Specifications
Bulldog Chassis
Hydro Series H5 SF CPU Liquid Cooler
SF600 600-Watt 80 Plus Gold Power Supply
Compatibility
Motherboard: Mini-ITX
Power Supply: SFX12V Only (SF600 600-Watt 80 Plus Gold SFX12V power supply included)
Recommended Graphics Cards: CORSAIR Hydro GFX, AMD Radeon R9 Fury X, MSI Sea Hawk, any card equipped with CORSAIR HG10 bracket and Hydro Series H55 cooler
Bulldog Compatibility List
Motherboards
Bulldog supports Mini-ITX motherboards only.
Intel LGA115x
All motherboards should be compatible, excluding ASUS Maximus Impact boards or other boards that feature risers.
Recommended Motherboards
ASUS H110I-PLUS/CSM
ASUS Z170I PRO GAMING
GIGABYTE GA-H110N-WIFI
GIGABYTE GA-Z170N-WIFI
GIGABYTE G1 GA-Z170N-Gaming 5
MSI H170I Pro AC
MSI Z170I PRO GAMING AC
Memory
Bulldog CS-9000001 kits are compatible with DDR4 only. For all other kits, please refer to the included motherboard's specifications for type of memory (DDR3/DDR3L/DDR4).
The Hydro Series H5 SF liquid cooler imposes a limit on the height of DRAM modules. DRAM that is above half-height or standard is not compatible with Bulldog. For your reference we've provided a list of DRAM families we offer that are compatible with Bulldog.
DDR4
ValueSelect
Vengeance LPX
DDR3/DDR3L
ValueSelect
XMS3
Vengeance LP
CPU
Bulldog CS-9000001 kits are compatible with Intel LGA1151 CPUs only. For all other kits, please refer to the included motherboard's specifications.
Graphics Cards
Bulldog is compatible with PCI Express video cards only.
Graphics Card Dimensions
Length: 12" / 300mm
Height: 4.2" / 115mm
Slots: Up to two
Validated Liquid Cooled Graphics Cards
AMD Radeon R9 295X2 (any vendor)*
*Use with CPU rated for 65W or lower only.
AMD Radeon R9 Fury X (any vendor)
Corsair Hydro GFX
EVGA Hybrid GeForce GTX 980 Ti 6GB
MSI GeForce GTX 980 Ti SEA HAWK 6GB
MSI GeForce GTX 1080 SEA HAWK 8GB
Validated Liquid Cooling Solutions for Graphics Cards
Corsair Hydro Series HG10 brackets in combination with Corsair Hydro Series H55 liquid coolers. For bracket compatibility, please refer to the HG10 compatibility lists
Related Tags