Thanks to G.Skill, all of the world's most renowned and prestigious overclockers will meet at Computex this year to push today's most powerful hardware to its limits.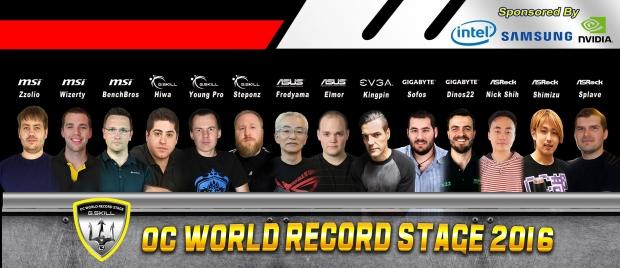 Armed with an all-star ensemble of overclockers and the world's most powerful motherboards, video cards, DDR4 RAM, SSDs, CPUs and more, G.Skill is ready to completely redefine everything we know about overclocking. G.Skill will be hosting this year's major OC events at Computex--the 5th Annual World OC Record Stage 2016 and 3rd Annual OC World Cup 2016--with Intel, Samsung and NVIDIA sponsoring the events.
G.Skill has partnered with the world's greatest motherboard partners like ASRock, ASUS, EVGA, GIGABYTE and MSI to allow the world's greatest OC'ers to "break as many overclocking world records as possible" using today's most powerful Intel Core CPUs, NVIDIA's GeForce GTX 1080 video card, and G.Skill's DDR4 RAM. Expect to see some staggering new benchmark records, with Skylake CPUs, 4000 MHz DDR4 RAM, and NVIDIA's new insane GeForce GTX 1080 pushed to its limits--and beyond.
"A very special thanks to our motherboard partners, Intel, Samsung, and NVIDIA for sponsoring the OC World Record Stage event," says Tequila Huang, Corporate Vice President and Director of R&D, G.SKILL International. "With their latest products and G.SKILL DDR4 memory, we will be able to demonstrate the advanced performance of the latest computing technology."
Both events will be held at G.SKILL Computex Booth I0608, located at Taipei City's Nangang Exhibition Hall, 1F. Check below for a list of all the attendees, schedule info.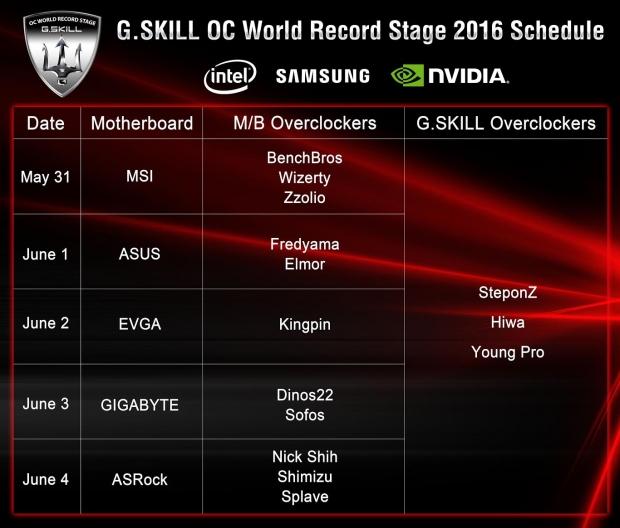 Ultimate Prize Packages:
Champion: $10,000 USD + Kingpin Cooling Dragon F1 Dark CPU Pot
2nd: $2,500 USD + Trident Z DDR4 4000MHz 16GB (8GBx2)
3rd: $1,500 USD + Trident Z DDR4 4000MHz 16GB (8GBx2)
4th: $1,200 USD
5th: $1,000 USD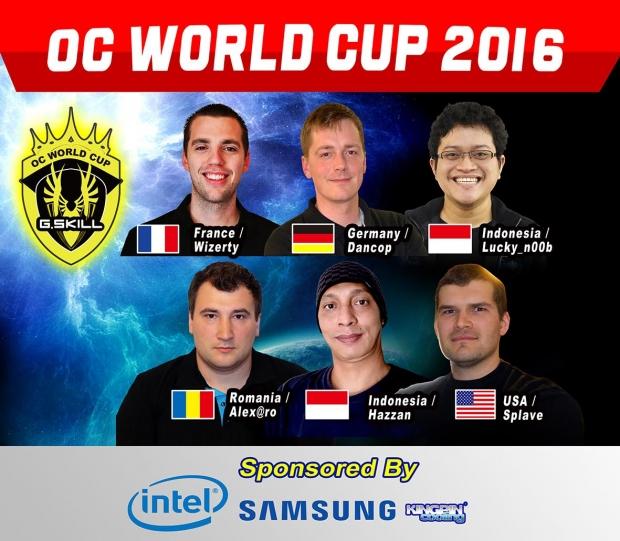 OC World Cup 2016 Schedule