Quantum Break just can't catch a break. Despite the huge controversy surrounding Quantum Break's 720p resolution on Xbox One, and the whole Windows exclusivity fiasco, it's now been revealed that the game's live-action segments will require an atrociously huge 75GB of hard drive space.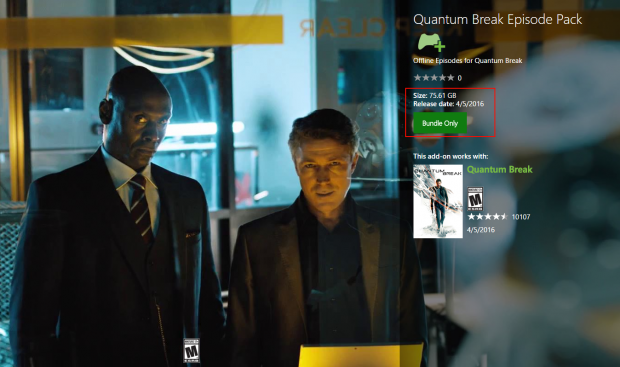 If you're an Xbox One owner who plans to play Quantum Break offline, then you'll need to clear out a huge portion of HDD space. The game's live-action cinematic shorts, which bridge the game's story after each gameplay segment, require a ridiculous 75GB of HDD space. That's over 1/10th of the total 500GB HDD space just for videos. So with the game and the video files installed, you're looking at a total install size of 119GB--44GB for the base game, and 75GB for the videos. Ouch.
Having such an insanely high storage requirement for the game's videos pretty much discourages offline play. As any current-gen console gamer knows, HDD space is precious, especially when single games can command up to 50GB install sizes. The Xbox.com listing also says the episodes are "Bundle Only", which means we can't download them episode by episode, just all at once. I can only imagine how long that'll take.
Bear in mind you'll have the option to skip Quantum Break's cinematic scenes, but you won't know what the hell is going on, so it's not advised. Locking a huge portion of the game behind cinematic scenes sounds neat in theory, but in practice, it just makes for an insanely awkward gameplan that annihilates consoles' limited space.
Also if you play Quantum Break on Windows 10 PCs then you won't even have the option to download the cinematic shorts, only stream them. We originally thought this meant PC gamers had to be always-online to play Quantum Break, but this isn't the case as you can skip the scenes. This is a blessing in disguise considering PC gamers will get the scenes in 4K, and I can only imagine how ridiculous the download sizes would be in UHD.