If you play Quantum Break on PC, you'll need a persistent internet connection to stream the game's live-action cutscenes. Xbox One players, on the other hand, get the option to download the videos.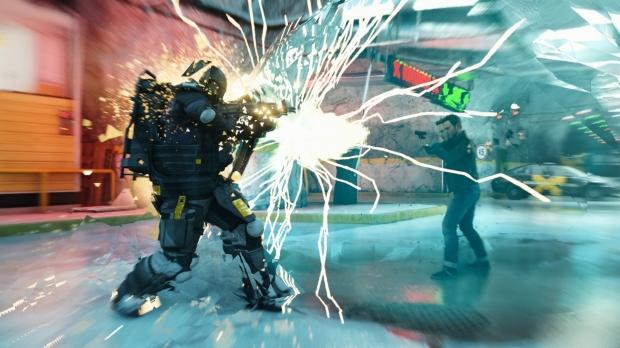 Remedy Entertainment revealed that Quantum Break's cutscene segments won't be included on-disc, meaning the game could potentially be a nightmare for gamers with slow connections. Quantum Break is separated into four different acts, and as you beat each section, a live-action video segment will play depending on the actions and choices you made. Remedy says that they chose to stream the video remotely in order to cut down on hard drive and disc space, affirming that the live-action video segments will have a ton of different outcomes and permutations based on player's decisions.
"We have 40 different variations of the show in total where basically your choices get to make it evolve and change whether it's from a junction choice or we have these things called 'Quantum Ripples' which essentially unlocked sort of deleted scenes from the show," Quantum Break narrative designer Greg Louden told Game Informer.
Louden confirmed that both Xbox One and Windows 10 PC will be able to stream the videos remotely, but only Xbox One will be able to download them for offline play. PC players will need an online connection in order to access the footage, which will be offered in 4K.
We're still not sure if PC players will need to be always online while playing Quantum Break or not, or if you just need to be connected right before the video content starts playing.
Also, we don't know what happens if you play offline and beat an act--perhaps the game will just skip the video? I'm thinking that Remedy will just require online for the game just so players don't miss out on half of the story arc, especially given how reliant the game is on the show elements.
We've reached out to Remedy but have yet to hear back.
Hopefully, Microsoft and Remedy will take the less obtrusive route as this kind of always-online requirement will be seen as a kind of active DRM, and Games for Windows Live still leaves a bad taste in the collective mouth of PC gaming. If they drop the ball on Quantum Break, it could irreparably damage Microsoft's new push into Windows 10 gaming.
Like the other games on the Windows Store, Quantum Break probably won't support SLI and Crossfire, which will be a huge let down for enthusiasts. Based on the game's high minimum specs it definitely looks like its tailored towards hardcore PC gamers.
Remember that Quantum Break is a Windows 10-only PC game, and it'll be exclusive to the Windows Store when it releases on April 5.