Sony reveals PlayStation VR pre-order wave timeline
Sony is opening up PlayStation VR pre-orders in waves to prepare for its launch in October.

Published Tue, Mar 22 2016 8:31 AM CDT
|
Updated Tue, Nov 3 2020 12:00 PM CST
Sony has revealed the different times that you'll be able to pre-order a PlayStation VR headset, giving consumers ample time to secure their own HMD.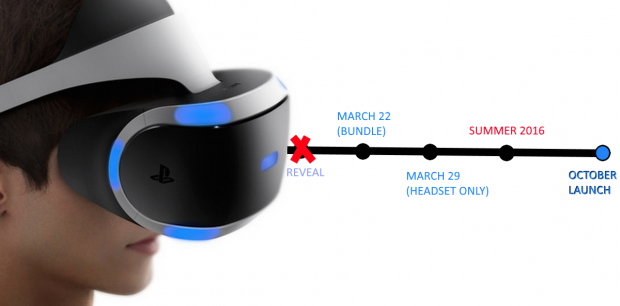 Rather than opening up pre-orders all at once like its competitors and shipping hardware on a first-come first-served basis, Sony has opted to accept pre-orders in phases and waves. The first wave is already over, following the PlayStation VR's price reveal, and Sony has announced two more pre-order phases before the headset's launch in October.
The next pre-order window for the PlayStation VR is today at 7 am PST, but it's only for the $499 PSVR Launch Edition which includes the PS Camera and other hardware, not the $399 Core Edition. The next time you'll be able to pre-order the $399 PSVR Core Edition is on March 29 starting at 7 am PST. If you happen to miss both of these pre-order windows, Sony has plans for another phase in the summer, and we're not sure if this will be the last pre-order wave before the headset launches in October.
Sony's PlayStation VR games will range anywhere from $10 to $60, and most of these games will be "passive, small experiences" rather than huge AAA blockbusters. Expect immersive and interactive arcade-style games, not sprawling open world's.
Sony has confirmed that all existing PS4 games will be playable with the PSVR in a kind of VR living room environment called Cinematic Mode, allowing players to "project" their PS4 gameplay to a giant 225-inch wide screen.
If you need a quick primer on the PSVR's specs, we've included a sheet below to refresh your memory.
5.7-inch OLED display with true R, G and B sub pixels per pixel

1080p resolution

120Hz refresh rate

Low latency under 18ms

Positional tracking with 9 LEDs

360 degree head-tracking

3D audio

100-degree field of view

Accelerometer and gyroscope for motion sensing
Related Tags