Toshiba launches its first 1TB M.2 SSD with 15nm NAND flash
Toshiba reveals its new SG5 consumer SSD lineup, including a double-sided 1TB M.2 drive with 15nm TLC NAND flash memory.

Published Wed, Feb 17 2016 5:33 PM CST
|
Updated Tue, Nov 3 2020 12:01 PM CST
Toshiba has unveiled its new SG5 series of consumer SSDs, which includes the company's first-ever 1TB M.2 form factor SSD.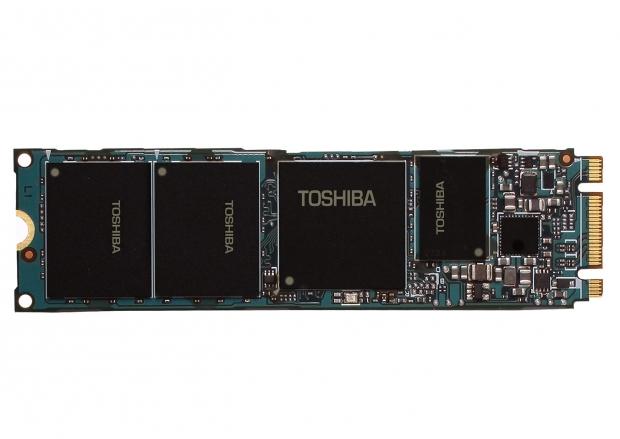 Toshiba's new consumer-ready SG5 series is built with the company's TLC (triple-level cell) NAND flash memory, and features up to 1,024 GB capacities with a 6.0 Gbit/s SATA interface. The consumer-based series comes in a flexible array of sizes, including 128GB, 256GB and 512GB flavors in M.2 and traditional 2.5-inch sizes. To ensure efficiency, the SG5 line is loaded with Toshiba's proprietary QSBC (Quadruple Swing-By Code) error correction technology.
The M.2 drives come in two designs--the 1TB two-sided variant, and the one-sided option with the remaining capacities. Toshiba lists the SG5 series has sequential read speeds up to 545 MB/s, and write speeds up to 388 MB/s, and a mean time to failure (MTTF) rating of 1,500,000 hours. No pricing or availability details were listed, but check below for a full spec sheet.
"We understand our customers' needs for performance are constantly changing. The SG5 Series gives our customers the flexibility of system configuration with a selection of various capacities and form factors," said Toshiba SSD marketing exec Cameron Brett. "As the inventor of NAND flash technology, we leverage our NAND expertise to introduce state-of-the-art TLC NAND to optimize SSD performance in a small form factor, while giving our customers the ability to strengthen their data integrity with data protection features like Toshiba's proprietary QSBC and wipe technologies."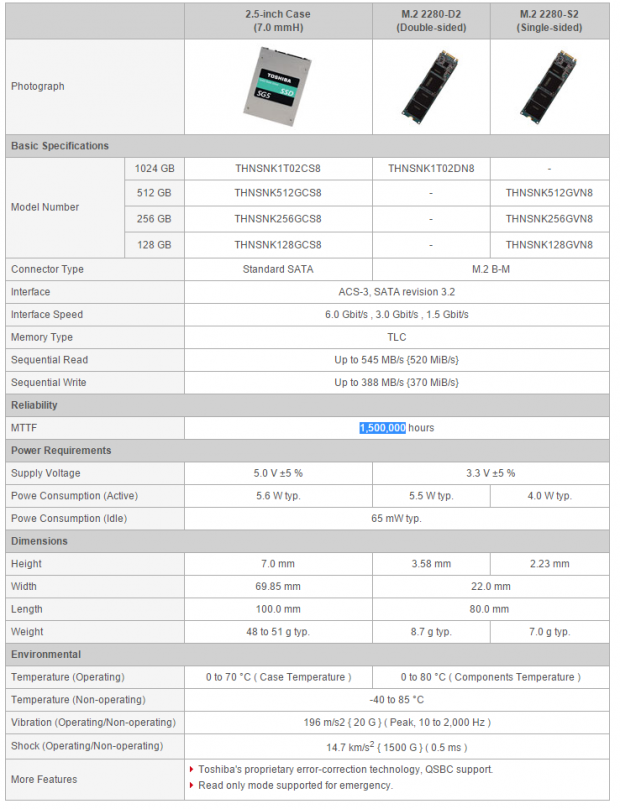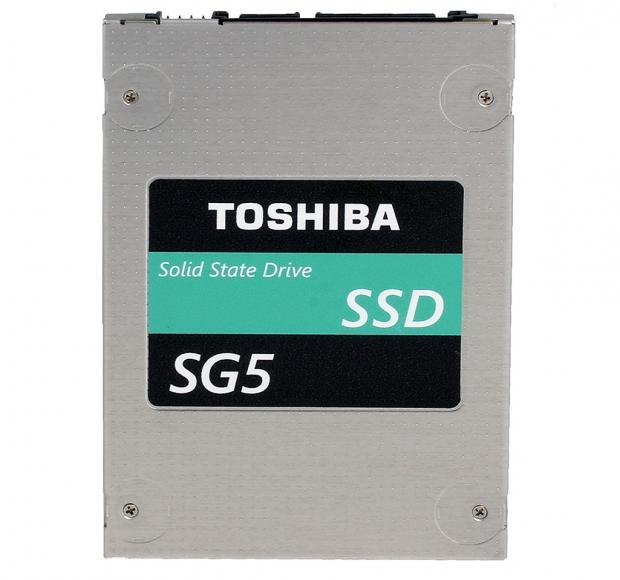 Related Tags