WD purchases Skyera to infuse HGST with all-flash array technology
WD purchases Skyera to integrate all-flash array products into HGST's product stack.
Published Mon, Dec 15 2014 10:48 AM CST
|
Updated Tue, Nov 3 2020 12:12 PM CST
WD has announced the all-cash purchase of Skyera, a leading all-flash array vendor. The Skyera acquisition will be folded into HGST, which is fast becoming the flash arm of WD. The purchase of Skyera has larger implications to the world of flash storage as a whole, as it embodies the movement of HGST up the stack to delivering fully-functional storage subsystems.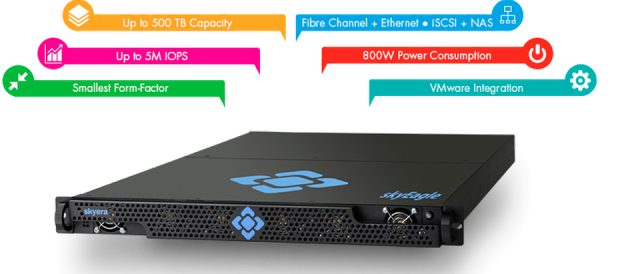 HGST has been making several key moves in recent years as it solidifies its position as a flash power house. HGST recently brought in Virident and sTEC for their broad storage portfolios and IP, and Velobit was also added to increase their capabilities in the flash-based software acceleration space. These acquisitions have cost WD a whopping $1.4 billion, but solidify their position in the expanding flash market.
Skyera has powerful 1U skyHawk products on the market that pack 136TB of flash, and skyEagle is in the works to provide up to 500TB. These high-powered all-flash arrays lead the market in density and pack quite the performance punch. Skyera was co-founded by Radoslav Danilak, who also pioneered SandForce controllers. Radoslav recently stepped down to become the CTO of the company while Frankie Roohparvar stepped in as CEO. Financial details of the deal are not being disclosed, but estimates run from $200 to $500 million.
The NAND fabs have largely stayed out of the all-flash array space, but HGST's entrance into the market might cause pause for consideration. While HGST doesn't produce NAND, their purchasing heft allows them to be competitive on price. SanDisk has recently announced intentions to spin off their all-flash array technology they gained with the Fusion-io purchase, but HGST's entrance may alter the calculus for many of the stalwarts of flash manufacturing.
From high-performance workloads to long-term storage and active archive, HGST's data center storage solutions help manage the volume, velocity and variety of data. The Skyera purchase will possibly touch off another round of consolidation as HGST's competitors look to compete with HGST's surprisingly balanced portfolio that spans helium hard drives, 12Gb/s SAS SSDs, PCIe SSDs, and now all-flash arrays.
Related Tags