Enmotus announces release of FuzeDrive software
Enmotus announces general availability of their FuzeDrive software.
Published Tue, Nov 4 2014 12:33 PM CST
|
Updated Tue, Nov 3 2020 12:13 PM CST
Enmotus has announced the general availability of their FuzeDrive server software, which provides software-defined storage acceleration for server-side SSD and NVDIMM deployments, which are becoming more popular in clustered servers and hyper-converged architectures. FuzeDrive's MicroTiering storage algorithms load-balance data across devices, and allows the use of standard SSDs to provide seamless caching for server-side flash deployments.
Andy Mills from Enmotus demonstrated the actual use of FuzeDrive software for us at the 2014 Flash Memory Summit. FuzeDrive provides easy management capability integrated into the operating system's native file browsing tools. FuzeDrive also allows for file-pinning in the cache, which keeps desired data constantly in the SSD cache to deliver maximum performance acceleration for critical files. Users can also use a real-time at-a-glance visual mapping tool to monitor performance. FuzeDrive differentiates itself from caching solutions by providing low-impact acceleration that doesn't eat CPU cycles. In come configurations caching software can chew up to 50% of the host CPU cycles running cache management tables and algorithms, and also have limits on the amount of addressable flash capacity. Enmotus is currently working with a select number of solution and channel partners to make the technology available.
Marrying the capacity of HDDs with the performance of flash is one of the most common use-cases for server-side flash deployments, specifically because it can reduce network traffic, or even take the SAN out of the picture entirely. Samsung recently purchased Proximal Data to expand its base of technology, and other players in this space have already made significant investments in various caching/tiering software companies. It wouldn't be entirely surprising to see Enmotus acquired in the near future.
We also set down for an in-depth interview with Andy Mills at the show.
Head to our IT/Datacenter section to view our extensive library of enterprise storage product evaluations, from HDDs, 2.5" SATA and 12GB/s SAS SSD's, up to the latest and greatest NVMe PCIe SSDs.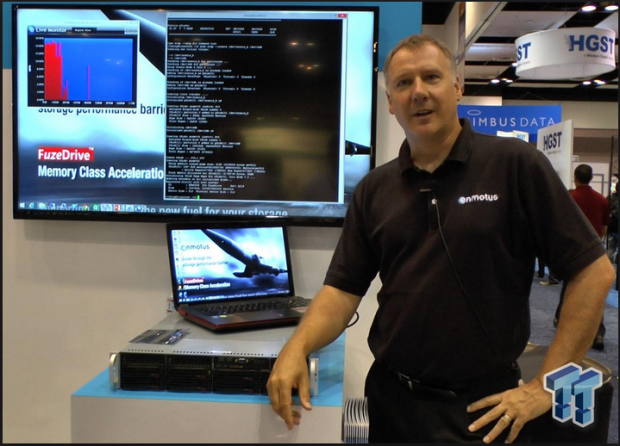 Related Tags