Come on, Ubisoft - the Internet and PC community is still rabid about Watch Dogs being gimped on PC, but now promising something once again for your other big title coming soon - Far Cry 4?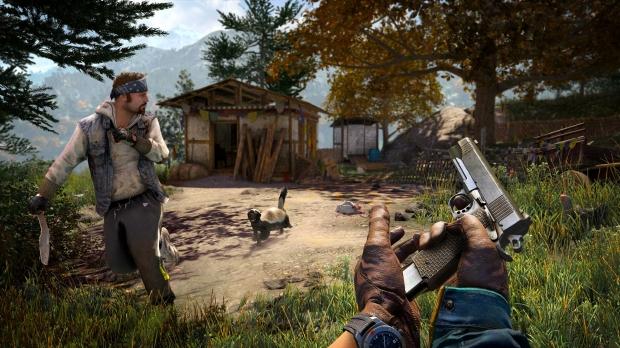 Well, Ubisoft has said that Far Cry 4 on the PS4 and Xbox One will be equal to that of the PC version set on Ultra High settings. This means that Far Cry 4 won't look that great (for a big budget, AAA title released in 2014 on next-gen platforms) or the PC version will be gimped, like Watch Dogs was most obviously.
Far Cry 4's Creative Director, Alex Hutchinson, talked with Major Nelson on his latest podcast, talking about the differences between current- and next-gen consoles. Hutchinson also talked about showing off how beautiful Far Cry 4 is on both next-gen consoles, and PCs, where he said: "We want the gameplay experience to be the same on all platforms so we're leaning on technical differences. Everything you see, whether it's the fur on the animals, the grass on the ground or the leaves on the trees. All these things are bumped up a huge amount in the next gen version".
Hutchinson said that Far Cry 4 is being developed primarily on PC - like we've never heard that before - so that the studio was able to get the game cranked up to ultra high quality immediately. He explains: "We develop on PC primarily, which is actually unusual. With Assassin's Creed, we develop on console, so we start at that and we push the boundary of the console as hard as we can. But because we develop on PC, you've never really seen on console the ultra-high PC version before".
Hutchinson continues: "So even out of the box, even day one, we just stuck the code on the new consoles and we were able to dial it all the way up. So as a console player you're already getting by far the best version we can ship". But, Hutchinson responded to Forbes pretty quick, where he added: "The PS4/XB1 versions will be the best console versions console players have yet seen, well above 360 and PS3 for Far Cry 4". Damage control? Possibly.
I don't know what to expect at this point, because if the game is developed on multiple platforms - which it is - and what the Xbox One and PS4 are capable of (which is far less than even a mid-range PC, let alone a decent or enthusiast/powerful rig) - then the PC version must not be that special. With most mutli-platform games being released, the Xbox One and PS4 are seeing their games pumped out at 729p, or 900p - let alone 1080p. Most of the games don't look that great - considering these "next-gen" consoles will be with us for another half-decade.
What do you think about all of this? Leave us a comment below.