Kingston DataTraveler microDuo works with microUSB ports
Kingston microDuo flash drive makes it easy to move files form a smartphone to your PC.
Published Wed, Mar 5 2014 11:32 AM CST
|
Updated Tue, Nov 3 2020 12:18 PM CST
Kingston has unveiled a new storage device that will make getting large video files off your Android device quick and easy. The storage device is called the DataTraveler microDuo. The duo in the name comes from the fact that the flash drive is able to work in a USB port or a microUSB port.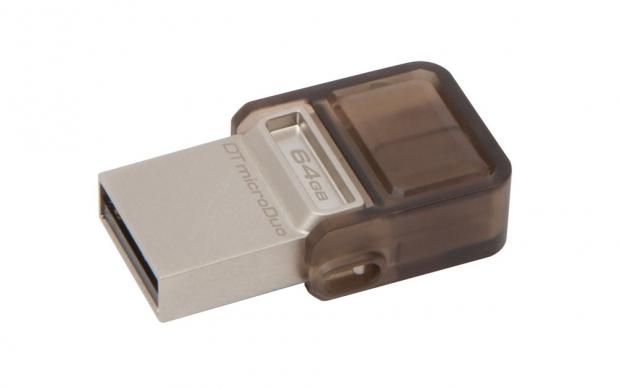 If you are an Android smartphone or tablet user, odds are that microUSB port is all you have. If your device supports USB OTG, you can plug the microDuo directly into that port and use a free app to move files to and from the storage device.
The drive is offered in 8GB, 16GB, 32GB, and 64GB capacities. The flash drive is very small and compact and should be easy to take with you on the go. Since it works with regular USB ports as well, transferring files to and from your smartphone and computer will be easy.
"DT microDuo is a great companion device to mobile phones or tablets as it lets users back up files on the go thus freeing up space, or share files between devices with ease," said Jean Wong, Flash memory business manager, Kingston. "Its sleek design has a built-in key loop and rotating cap, so it is small in size and big on storage. Travelers can take entire libraries of music or videos with them on trips without worrying about filling up the memory on their own device."
Related Tags