Vision Sensor gives the Oculus Rift new eyes to see with
Vision Sensor hits IndieGogo, wants to be the Oculus Rift's new BFF.

Published Wed, Sep 18 2013 3:21 AM CDT
|
Updated Tue, Nov 3 2020 12:20 PM CST
I think that 2014 is going to be the breakout year for virtual reality, with kick-ass products like the Oculus Rift which isn't even close to a consumer launch yet. But, now we have Vision Sensor hitting IndieGogo, which the team give a description of "creates new seeing capabilities for the Oculus Rift."
Vision Sensor is basically augmented reality for the Oculus Rift, which sees two sensors and a sensor attachment cover strapped to the front of an Oculus Rift Developer Kit. It features a resolution of 1280x480 at 60FPS, and weighs just 75g so that it doesn't feel too heavy with the Rift, and Vision Sensor on your head.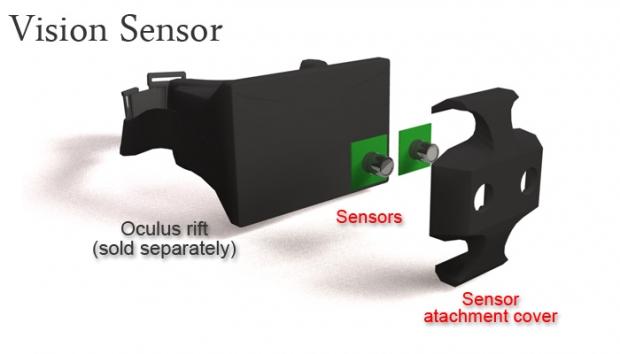 The team at Vision Sensor say that there are 3 new possibilities to add to the user experience, with the first being an Immersive AR Experience. The second is Intuitive Operation (Mixed Reality) and the final possibility is Regaining Lost Vision. The first, lets you be in the world of Oculus Rift, but still stay in the real-world through augmented reality.
Intuitive Operation allows your fingers and hands to become an interface, replacing the traditional mouse and keyboard (or controller/Razer Hydra). The final part is regaining your loss of vision when the Rift is on your head and in front of your eyes.
Related Tags